US/China agree to fight protectionism, but doubts linger on US dollar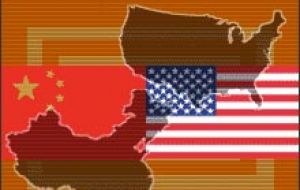 United States and China are committed to fighting protectionism, said US Treasury Secretary Timothy Geithner following two days of high-level talks. The two countries share an interest in ensuring that trade remained "open and rules-based".
He was speaking after meeting Chinese Vice-Premier Wang Qishan in Washington.
Mr Geithner said China had agreed to boost domestic consumption and the US to toughen financial regulations to prevent another financial crisis.
After the two-day Strategic and Economic Dialogue, as the talks are known, the Treasury secretary told reporters: "The United States and China are among the biggest beneficiaries of the global trading system and share a common interest in ensuring that global trade and investment remain open and rules-based".
Mr Geithner said the talks concluded with an agreement from China to increase domestic consumption to reduce its reliance on exports to US markets.
He added that in turn the US would implement tougher financial regulations.
The administration has asked Congress to increase capital requirement for banks to reduce exposure to debt default and strengthen the financial system.
Meanwhile, US Secretary of State Hillary Clinton led separate discussions at the State Department, focusing on nuclear issues. Afterwards, she said the US and China were united against Iran becoming a nuclear weapons state.
While the two sides appear to have found common ground in public, analysts say that differences remain.
In particular, China is worried about the value of the US dollar. It holds huge amounts of US debt - more than 800 billion of US Treasury securities alone.
China fears President Obama's stimulus spending will stoke inflation in the US, eroding the value of the dollar and making the US debt China holds worth a lot less.
"As a major reserve currency-issuing country in the world, the US should properly balance and properly handle the impact of the dollar supply on the domestic economy and the world economy as a whole," Mr Wang said earlier on Tuesday.
Meanwhile, US manufacturers complain they cannot compete fairly with their Chinese competitors, accusing Beijing of deliberately devaluing its currency to make its exports seem cheaper. (BBC).-