Falkland Islands: Penguin News Update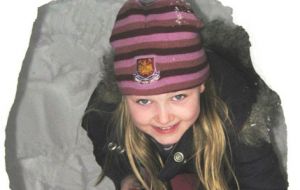 Headlines: Westerners' message to councillors: our livelihood is under threat; We're progressing BFBS TV options Rendell assures.
Westerners' message to councillors: our livelihood is under threat
WEST Falkland residents are appealing to the government to urgently address issues which they say are threatening their livelihood.
They are calling for a reorganisation of the schedule for the coastal shipping vessel Concordia Bay, and for livestock and wool transportation to be "affordable and realistic". They have also appealed for quality of life and business viability on the West to be addressed.
Shelley Nightingale summed up the feeling of her fellow farmers, asking councillors: "Do you want us to stay here or not?"
More than 50 people - representing more than 85 percent of the West's farms - gathered for a meeting at the Fox Bay Social Club on Sunday to discuss a number of concerns.
The discussion focused on the withdrawal of the South American Atlantic Shipping (SAAS) service to Fox Bay and the decision by the Falkland Islands Meat Company to stop footing the bill for transportation of livestock to the abattoir.
Fox Bay resident and vice chairman of the Rural Business Association, Justin Knight, said there was a perception that these subjects had not been treated with the urgency and seriousness they warranted.
The prospect of having to meet the cost of moving animals to the abattoir has led many Westers to question the viability of sheep farming and the consensus at the meeting was for there to be equality with farms on East Falkland.
Wool transport has also become a critical issue for West farmers since the SAAS ship stopped calling into Fox Bay.
The cost of the transport of wool by road and ferry represented a "massive" increase on the SAAS rates and the farmers proposed a number of solutions, all of which would require a change to either the rates or schedule of the Concordia Bay, for councillors to consider.
Cllr Mike Summers welcomed the comments from West Falkland: "It's a very good idea for them to get together and come up with ideas for how to address the practical issues.
"Whether it is possible to equalise freight from the East, West and all over, I don't know - that might be quite ambitious - but making sure it is affordable should be one of the government's objectives."
However he said the government was already addressing the Concordia Bay schedule and the issues of livestock and wool transport: "We sent instructions to FIDC to include information on livestock and wool transportation in their paper on the future schedule of the Concordia Bay, which is to come to the next ExCo meeting.
"As for the quality of life issues, the Rural Development Strategy (RDS) is supposed to be dealing with that and we've had discussions recently about having this moved on more quickly."
We're progressing BFBS TV options Rendell assures
NEGOTIATIONS are continuing on the future supply of BFBS television to Islanders, however it is "too early" to say when the new system will be in place, Councillor Mike Rendell says.
The government is currently examining in detail an option to broadcast British Forces Broadcasting Service channels to Camp using a mix of terrestrial and satellite transmission, he said. "This would bring economies of scale, would simplify reception in some large settlements, and would mean that satellite dishes would only be needed at locations beyond the projected terrestrial coverage. However, technical speci-fications and contractual arrangements still have to be agreed by all parties."
These issues will be the subject
of a paper to Executive Council (ExCo) who, if necessary, will sit in advance of their next scheduled meeting (on August 20) in order to progress the matter, Cllr Rendell said.
Meanwhile the government has selected a preferred bidder to purchase and install the satellite television systems.
However, Cllr Rendell said: "It is still too early to predict with any accuracy when customers will be able to migrate to the new system."
This week BFBS apologised to viewers who had been without a television signal in Camp due to the poor weather - Story on page 2.