Unasur divided on Colombia/US troops issue; next summit in Argentina
Tuesday, August 11th 2009 - 10:58 UTC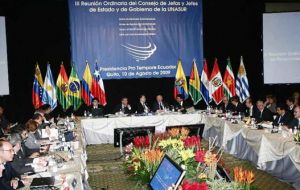 Leaders from the Union of South American Nations, Unasur meeting in a regional summit in Ecuador expressed fresh concerns over Colombian plans to grant US troops access to its military bases but could not agree on a declaration to formally condemn the proposals.
Venezuelan President Hugo Chavez warned that "the winds of war were beginning to blow" across the region.
Colombia says it needs US support to tackle drug lords and left-wing rebels.
The US wants to relocate its base for anti-drug operations in Latinamerica to Colombia, after Ecuadorean President Rafael Correa refused to extend an agreement allowing US access to the Manta military base in Ecuador.
Brazilian president Lula da Silva called for a meeting between US President Barack Obama and the region's leaders to discuss their concerns directly.
"As president of Brazil, this climate of unease disturbs me" said Lula da Silva adding that "I think we should directly discuss our discontent with the American government."
Venezuela's Chavez warned that the July agreement between Bogota and Washington "could generate a war in South America".
Although a number of countries in the region had previously expressed alarm over the plan, the summit failed to back Venezuelan and Bolivian calls for a joint statement condemning the move.
Instead, Unasur members agreed to hold talks - in Argentina later this month - to discuss the controversial Colombian-US proposal.
Colombian President Alvaro Uribe, a Washington ally, toured the region last week in an effort to persuade leaders that an expanded US presence would not threaten any other nation in South America.
Monday's Unasur summit was held amid growing tensions between Colombia and Venezuela. The Colombian president did not attend the meeting in Quito.
Ecuador severed relations with Colombia after Bogota ordered a raid over the border in March 2008 on a left-wing Farc guerrilla camp.
On Sunday Mr Chavez stepped up accusations against Mr Uribe, saying Colombian soldiers had recently been spotted crossing the Orinoco River, which forms part of the border, and entering Venezuelan territory.
He said the alleged incursion was a "provocation" and put Venezuelan troops on a war footing along the border with Colombia.
The foreign ministry in Bogota said the Venezuelan claims were "not true", because it had checked with Colombian military commanders near the border and they had not reported any such incursion.
A week earlier the Colombian government said that Swedish manufactured portable rocket launchers, allegedly purchased by Venezuelan Armed Forces, had been seized from the Farc guerrillas.
"The Yankees have started to command Colombian military forces" Chavez also said on Sunday.
Last week, President Obama said the Colombia-US plan would merely update an existing accord, Plan Colombia, whereby US military personnel already help the Colombians fight drug trafficking and left-wing rebels.