Mujica repentant for condemning Uruguay to endure military dictatorship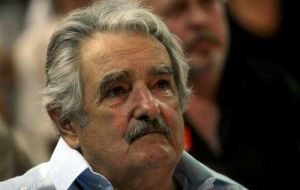 Uruguay's incumbent presidential candidate and former Tupamaros guerrilla leader Jose "Pepe" Mujica sent shockwaves both inside the ruling coalition and the opposition as a result of a long controversial Sunday interview with the Buenos Aires daily La Nación.
Mujica confesses to be against "government intervention in the economy", argues that "justice is vengeance" and what matters are the human rights of the living, praises Brazil's Lula da Silva negotiating skills, admits not understanding the political ideology of the Kirchner couple, loathes bureaucracy and apologizes for having condemned Uruguay to live under a military dictatorship.
The 74 year old Senator, undisputed leader of the ruling coalition Broad Front who spent 14 years in jail for his guerrilla activities, showed a blend of pragmatism, age-wisdom, non dogmatism and independent thinking that has had him on the headlines since then.
Public opinion polls show him with a comfortable 42 to 45% vote intention, several points ahead of his runner up but not enough to be elected Uruguayan president in October. If not a run off is anticipated a month later between him and the National party candidate (conservative) Luis Alberto Lacalle.
"If belonging to the left means defending a strong government intervention in the economy and a strong state tendency in economic affairs, that's not for me", said Mujica adding that the Uruguayan economy, if he wins, will be in the hands of his ticket companion, Danilo Astori, former Economy minister and former Dean of the Uruguay university School of Economics.
"No abrupt changes, no pitching or rolling, nothing of the sort, we are going to continue with the current economic policy which has proved most successful", promised Mujica.
"I'm more a libertarian than a man who thinks the state is the solution. My Socialist ideas support self-management and I don't mix it with the power of the state. The job of government is to help with social distribution, to avoid the accumulation of social rust-belts which the market can't address, and they finish being extremely dear for the rest of the community".
Mujica added that it's only natural some businessmen mistrust him, "they have to look after the money; I don't care who they vote for, we need businessmen to work, to create jobs to help multiply assets…it's a matter of patience to convince them".
He went on to say that conflicts must be solved through negotiations, "avoid exhausting confrontations in which much more is lost. When you are in government you must also care about the rest, nobody has a right to make the life of the rest miserable".
And this has clearly been the virtue of Brazil's Lula da Silva, "a very philosophical and intelligent" moderate attitude. Sit round a table and negotiate, "if you can't get 100, go for 20, or for something, avoid indefinite confrontations; it's the most economic and practical system".
Besides this is the essence of politics, of ruling, "avoid confrontation, always negotiations".
When asked about another "Socialist" South American leader Hugo Chavez, Mujica was quick to reply "he talks too much". The Uruguayan presidential hopeful admitted that Chavez was advancing over press freedom, private property "but I have a good feeling towards him. Venezuela is a mad country, the most robbed and exploited country in South America and he's helping the poor. Others tried before but they first filled their pockets".
However Venezuela is important for Uruguay: "they have oil and they can consume three times Uruguay's production of powder milk. On other issues I've told him, be careful you are not building Socialism: you're creating a huge bureaucracy which ends gobbling you".
Regarding Mercosur, Mujica said it has been too trade-oriented and left aside more practical intelligent, issues of the future such as having homogeneous education and university programs which would help academic mobility among member countries: "it's done with out of the region countries but not among us; it's hard to understand".
Regarding relations with the United States, "that's more for Astori, he's an expert and manages English. I can look after China; I was there in Mao's time so I know them. Nevertheless you can't have prejudices when you are a small country, what's the use of prejudice if there are no practical results?"
And what about the Kirchners?
"You're mad if you think I can advise them. It's hard to make out what is the ideology of the Kirchners; for us Uruguayans it is most difficult to understand how Peronism works: it's more a sentiment, you can find all the political fauna in that bag".
But "I think Argentina has a utopia crisis: they live intensely current time and seem to have no project for the future", underlined Mujica.
Possibly the more controversial position from the presidential hopeful refers to human rights, justice and sealing the scars of a past of violence, guerrilla violence ignited in the sixties and the over-whelming reaction of the state that ended in a 12 year military dictatorship for Uruguay.
"I've argued all along, from the moment I left jail that I did not believe in human justice, but I understand we need something to avoid falling into "the eye for eye". I also am well aware I'm not entitled to an impartial point of view since I was in jail and I was part of what happened", indicated Mujica.
"What matters are the human rights of the living; we can't have old men in their late seventies, eighties, even the military in jail; that's what I think".
Mujica, "I want to know the truth of what happened, I don't believe in Justice. Personally if they (military) say the truth they will have their sentences commuted, but will people accept it? that is why justice has an odour of vengeance. I'm aware that what I went through nobody will return it, it's a life backpack for me, like an accident, a sickness".
And what about armed struggle and the dream of a new society?
"It wasn't the promised land and it's not now with the votes, but both have something in common: we're not changing the world. It's just a couple of steps, much lighter, we are supported not on the run, and somebody will follow".
What's the big difference?
"You can't take over a country unless you know what to do with it. We didn't think about it forty years ago, but you have to be very careful otherwise the pervasive bureaucracy emerges and takes over".
Mujica admits there's no "apocalyptic culmination, from one day to another, with a big parade or an Arch of Triumph, it's an endless staircase, you climb a couple of steps, you leave something, somebody follows; it's an endless road but the day you feel you have reached, you're finished".
And what is your greatest repentance?
"That because of the armed struggle the (Uruguayan) people were condemned to 16 years of dictatorship and we couldn't kick them out. I failed as a militant. Besides we learnt that when you try building a society without social classes, the bureaucracy monsters appears and gobbles all ideals, and you enter a world of disillusion".
Mujica said that "they called us guerrilla but we were really an armed political movement but violence was justified because there were too many injustices in Uruguay…"
Actually "we tried by all means to avoid killings; our leader Raul Sendic insisted in the political framework of the struggle; in the rest of Latinamerica lives were worthless, we tried not to, but we had our military deviations".
Did you ever kill anybody? No, I didn't have to.
How would you define power?
Like a girl friend that when you have her in your arms, she slips away…
It is said you don't look or have the presence of a president?
"I don't look like one. I'm a common guy, just Joe Doe. People have other ideas about how a president should look".
But, "I'm certain about a couple of things: the solitude of power and the risk of being surrounded by aye-aye men who only let you listen what you like. I'm going to listen to dissenters, the heterodox. A democracy can be represented by an ear, a big ear, not a tongue; I spend most of my time listening to people".
The interview was done by an Argentine journalist at Mujica's farm, half an hour from downtown Montevideo where he feels more at ease: on a tractor, collecting flowers for neighbours, talking with neighbours and always next to his wife Lucia Topolansky, whom he met back in 1967 during the peak of the Tupamaro revolt but only married a few years ago.
She also spent years in jail and is known to be more intransigent than her life long companion.