South American leaders sign agreement creating South Bank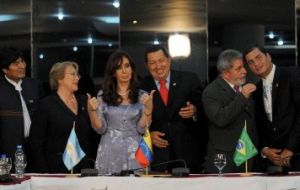 The presidents of Argentina, Brazil, Paraguay, Uruguay, Ecuador, Bolivia and Venezuela, signed on Saturday night an agreement establishing the South Bank with an initial capital of 20 billion U.S. dollars.
Venezuelan President Hugo Chavez announced the creation of the South Bank during the second Summit of South America-Africa (ASA), which began earlier Saturday on the island of Margarita, northeastern Venezuela.
The new bank will fund programs for economic and social development in the member states. It will also create and promote national financing funds, among other functions.
The document was signed by Luis Inacio Lula da Silva of Brazil, Cristina Fernandez of Argentina, Rafael Correa of Ecuador, Tabare Vasquez of Uruguay, Fernando Lugo of Paraguay, Evo Morales of Bolivia and Hugo Chavez of Venezuela.
It was unclear how much each country would contribute, but under the previous $7 billion figure announced in May, Argentina, Venezuela and Brazil were to have each pledged $2 billion, while Uruguay, Ecuador, Paraguay and Bolivia were to have chipped in smaller amounts.
During the summit, the Venezuelan president also proposed to his African counterparts the creation of a regional bank between South America and Africa.