Argentina and Uruguay again clash over the Botnia pulp mill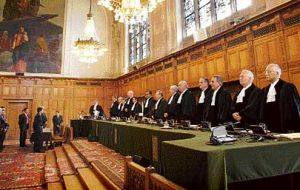 The Argentine government strongly repudiated on Friday a report from the Environmental Board of Uruguay saying Argentina had "adulterated" information referred to the pulp mill dispute submitted to the International Court at The Hague.
Controversy arose after a report of a daily in Montevideo said the Environmental Board had denounced that Argentina had "adulterated documents" on environmental analysis that were presented before the international court, currently analyzing the dispute over the construction of the Botnia plant on the Uruguayan side of a jointly managed river.
Argentina filed a complaint before the court in 2006, claiming Uruguay had failed to comply with the Uruguay treaty when it gave the green light for the construction of the plant without a necessary authorization from Buenos Aires. Argentina has claimed the plant, owned by Finnish Botnia, is polluting the surrounding area. The plant is located on the banks of the Uruguay River, just across the border from Argentina.
"A report, presented by the director of DINAMA, Alicia Torres, says Argentina 'used contradictory information about the reality ranging from the bias and manipulation of data to the adulteration of documents and the violation of the regulations of the court itself' the Ultima Noticias daily quoted the report as saying.
The Argentine Foreign Ministry reacted immediately with a communiqué stating that the report was "unacceptable, unfounded and inappropriate". The statement added that the data provided by Argentina was "very solid, both in the allegations and the evidence presented in the hearings".
The release says that at the 30 June 2009 summing up in The Hague Argentina presented a "solid scientific report with evidence during the hearings at the Court showing that the Botnia pulp mill effectively is contaminating the River Uruguay ecosystem".
Argentina and Uruguay made their final presentations from September 14 to October 2 and a ruling from the Court can be expected at the beginning of next year.
Meantime Botnia announced that the plant would be closing from November 3 for maintenance which can derive into "strong odours both at the beginning and resumption of operations, but under no circumstance are they harmful for human health".
The maintenance period is expected to last ten days. Next November 9 the Botnia plant will be celebrating its second year of operations having produced two million tons of pulp, (3.000 tons per day), all of which is exported to Asia and Europe.