Brazil inaugurates first commercial ethanol-fuelled power plant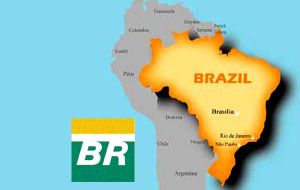 Brazil inaugurated this week the world's first ethanol-fuelled power plant in the state of Minas Gerais. The flex-fuel turbine, which was converted from running solely on natural gas, began operating on December 31 and is currently in its optimization and testing phase.
"With this initiative, Brazil reasserts its leading position in ethanol production and use, and Petrobras takes yet another step in the search for alternative sources of power generation" said a Petrobras press release.
The turbine is just one in a power generating park with a 7,028 megawatt capacity. In the park there are 14 thermoelectric plants running on natural gas, 12 on oil and 15 small hydroelectric plants, according to Petrobras.
The thermoelectric plant utilizing ethanol is made up of two 6,000 GE LM aero-derived turbines manufactured by General Electric (GE). Half of the electric plant's 87 megawatt capacity comes from the converted turbine, which can run on both natural gas and ethanol.
"The conversion of the turbine involved the replacement of the combustion chamber, of one of the injector nozzles, and the installation of peripheral equipment (receipt system, tanks, pumps and filters) which allow the receipt, storage and flow of ethanol to the turbine," the press release said.
Petrobras invested the equivalent of 25 million US dollars in the project which is now generating 43.5 MW sufficient to supply power to 150.000 people a third of the Juiz de Fora population.
"We have great expectations to show the viability and economy of generating electricity from ... an alternative feedstock to fossil fuels," Maria das Gracas Foster, head of Petrobras' natural gas division, said.
John Ingham, Latin America Products Director for GE, said tests showed switching the plant to ethanol reduced carbon dioxide emissions without lowering energy output.
Brazil is expected to produce a record 27.8 billion litres of ethanol in the 2009/2010 season. It began its bio-fuels program 30 years ago and now mandates a minimum 20 percent of ethanol in gasoline.
Petrobras itself is only starting to enter the ethanol market. Brazil's ethanol production comes from sugar cane milled by companies such as Cosan or commodities giants including Cargill Inc, Bunge and ADM Co.
Domestic demand for ethanol is being driven by the popularity of the flex-fuel car technology that was launched in 2003 and now makes up around 90% of new vehicle sales.
In related news Petrobras signed an agreement with the Brazilian navy to develop a project in Antarctic to study the reaction of bio-fuels to extreme weather conditions. Brazilian ethanol is mainly made out from sugar cane and bio-diesel for soy, sunflower and other oil seeds.
Brazil wants to produce a special line of bio-fuels for the European market that can stand the very low winter temperatures in that continent.