Brazil finally decides to purchase Dassault Rafale fighter planes
Thursday, February 4th 2010 - 17:51 UTC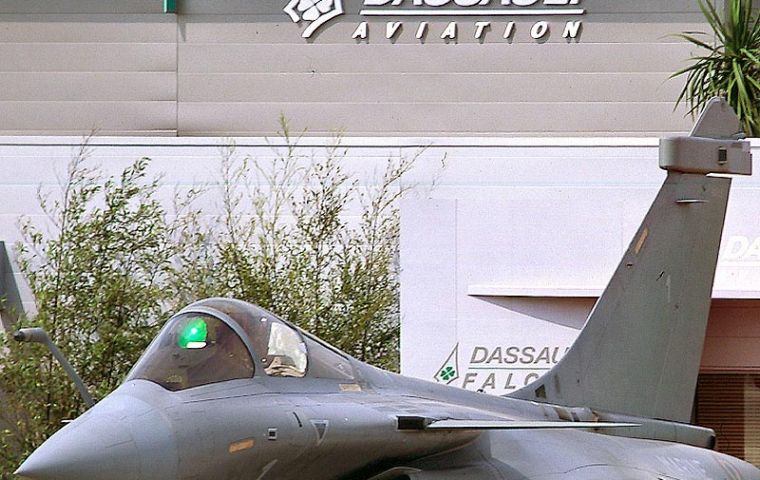 Brazil has agreed on a price to buy and assemble 36 Rafale fighter jets with French manufacturer Dassault after months of negotiations, a leading Brazilian newspaper reported on Thursday.
President Lula da Silva settled on the Rafale after Dassault reduced the total price to 6.2 billion from 8.2 billion US dollars,Folha de Sao Paulo reported. However there has been no official confirmation.
The other two contenders in the bidding process are the Gripen NG made by Sweden's Saab and the F-18 made by the US-based Boeing. According to the Sao Paulo newspaper in spite of the 25% alleged discount the Rafale price tag would top Boeing's 5.7 billion and Saab's 4.5 billion.
The decision apparently was agreed during a meeting of President Lula da Silva with Defence Secretary Nelson Jobim who last weekend stopped over in Paris on his return trip from Israel.
In France according to Reuters Dassault declined to comment.
Brazil's Defence ministry said it still has not concluded a report on the bidding process detailing its recommendation for Lula da Silva.
Brazil, the largest Latinamerican country and with the strongest economy is seeking a generous technology transfer offer and local assembly. The deal could eventually rise to more than 100 aircraft.
Brazil has signed a strategic defence agreement with France worth billions of dollars, including the local assembly of helicopters and conventional and nuclear-powered submarine.
Lula da Silva had at least on two occasions anticipated he preferred the French offer in spite of the fact the Brazilian Air Force leaked a report saying the Swedish Gripen was the best choice given its low maintenance costs.
However one of the decisive factors, according to sources quoted by the newspaper, is that both Boeing and Saab have numerous US manufactured components which could in a future prevent Brazil's sovereign decision to sell jet fighters to third countries.
In effect the US has impeded Brazil from selling its Super Tucano training aircraft to Venezuela precisely for that reason.