Rio's Carnival takes off: "I order everyone to have fun"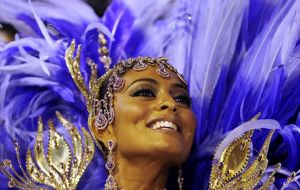 Rio do Janeiro's four-day Carnival officially kicks off Saturday with a long list of celebrities in town to watch the main event, which this year is dominated by a row over a seven-year-old girl joining the ranks of the sexy adult samba queens.
Singer Madonna, Australian actor Hugh Jackman, Beyonce, Alicia Keys and extravagant Paris Hilton were all congregating in the seaside "Marvelous City" which was experiencing its steamiest heat wave in 50 years. Temperatures were soaring above 40 degrees Celsius.
The traditional festivities involving copious amounts of cold beer and caipirinhas, skimpy clothing and infectious drum beats have already been going on for days in the streets, where thousands of tourists have joined locals in dancing and partying.
Saturday, the tone and temperature rises as official events take off. However Friday will see much of the colour, music and flesh in anticipation of the four day party.
The main show happens Sunday and Monday, when the iconic parades by the city's top samba schools are rolled out in a televised spectacular at a special "Sambodromo" stadium seating 90,000 people.
But the inclusion of a young girl, Julia Lira in the role of samba queen has sparked controversy.
The seven-year-old, the daughter of the head of the Viradouro school she is dancing for, will be competing against the samba queens of the 11 other schools in the competitive parades -- all of them near-naked women in little more than a g-string and body glitter.
Viradouro has promised Julia will not be provocatively dressed, but even so, it had to see off a legal challenge by a children rights group. A Rio judge Tuesday finally gave authorization for her to take part.
While Lira is the youngest samba queen of a major samba school, she is not the first young girl in the role; a rival school successfully entered a 12-year-old as its samba queen six years ago.In addition, a children-only parade takes place anyway before the main event.
"Julia is a charismatic girl with a marvellous presence in front of the drummers," Viradouro's artistic director Edson Pereira told reporters. Her costume would highlight her "innocence," he said.
Although Rio's Carnival is by far the most famous worldwide, the festivities were in fact taking place right across Brazil, effectively shutting up business in this country of 195 million people until well into next week.
Other cities, including Salvador de Bahia, Sao Paulo and Recife, had parades starting Friday night, preceding that of the Carioca city. But for Rio this is a special showcase year since the wonderful city will be hosting the World Cup in 2014 and the 2016 Olympic Games.
"This is the first Carnival in the Olympic city, which has a fantastic image across the world. It's a Carnival of happiness," Rio mayor Eduardo Paes said as he officially launched festivities by giving a key to the symbolic head of Carnival, a character known as "King Momo."
"I order everybody to have fun," Momo said in the ceremony.