Paraguay Imposes 30-Day State of Emergency to Combat Insurgent Violence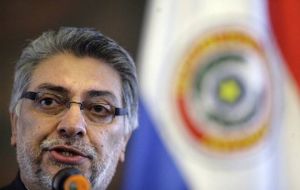 Paraguay has passed a bill imposing a temporary suspension of constitutional rights in five northern and central provinces of the country in a crackdown on violence by a self proclaimed insurgent group, the Paraguayan People's Army, EPP.
The 30-day suspension signed by President Fernando Lugo after Congress pruned to five provinces his original national exception decree, gives the armed forces greater powers to combat the left-wing group Ejército del Pueblo Paraguayo (EPP) which is responsible for the latest killing of four people and kidnapping for ransom, sources in the country's congress said.
The emergency will allow troops and police to detain suspects and ban public meetings for 30 days in the five provinces.
President Lugo asked for the measures three days ago after a police officer and three farm workers were killed in an attack last Wednesday approximately 380 kilometers to the north of the capital Asunción.
Paraguayan intelligence claim the rebels belong to the EPP, a small group with suspected links to left-wing rebels in Colombia.
"These fugitives of the Paraguayan People's Party should be captured, because everyone has the right to live in peace," Mr Lugo said as he defended his request for a state of suspension.
The head of Congress opposition Senator Miguel Carrizosa said that the President has been given the tools to "neutralize EPP, which is causing so much damage and grief" in the north of the country. "People are afraid, the government must act".
EPP is accused of having participated in four renowned kidnap for ransom cases in the last ten years and apparently some of its members have been trained by Colombian rebels from FARC.
The area where the EPP operates is to the north-east close to the Brazilian border, an area of farms and jungle with scarce population and little police presence. In the latest case a policeman and three farm hands went into the jungle after what they believed were cattle rustlers, but were machined gunned by the EPP group.
EPP is accused of having kidnapped cattle farmer Luis Lindstrom, in 2008, who was released after 43 days and a ransom of 300.000 US dollars. The most recent kidnap involves another farmer Fidel Zabala, retained 94 days for whom the family paid 550.000 US dollars.
In 2001 the group allegedly kidnapped Edith de Debernardi, wife of a rich Paraguyan businessman and in 2005 the daughter of a former president, Cecilia Cubas, for whom a ransom of 300.000 US dollars was paid but she never returned alive.
Cine the latest violent actions Colombian and Brazilian intelligence groups are known to be operating with sophisticated equipment in support of Paraguayan authorities.