Pulp Mill Dispute: Protest and Counter Protest on Both Sides of the River Uruguay
Monday, April 26th 2010 - 06:21 UTC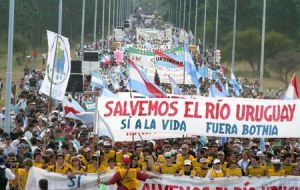 Angry protestors from Argentina marched Sunday on to the bridge linking with Uruguay to express their disenchantment with the recent international court judgement on the pulp mill dispute, which confirmed the mill does not pollute and there's no sufficient evidence for re-location or damages' compensation as demanded by Argentine environmentalists.
The massive rally at the international General San Martín Bridge attracted thousands with flags and banners who walked up to the separating line where, following a prayer, the activists proceeded to sing both the Uruguay and Argentina national anthems.
A similar march was organized from the Uruguayan side of the bridge but to protest against the pickets established by Argentine activists since 2006 and which have seriously hindered trade, traffic and business between the neighbouring cities of Gualeguaychú and Fray Bentos.
Before the march, Argentine activist and Assembly member José Pouler said that it was of utmost importance that all the people of Gualeguaychú "show up in support" of the town's strong convictions, which keep asking "for a healthy environment our children can inherit."
Asked about the possibility of lifting the roadblocks that activists have been enacting since 2006, Pouler answered: "It's a decision up to the entire population of Gualeguaychú", and added, "next Wednesday the Assembly will gather again and debate the future of the roadblocks."
Pouler also remarked that the activists "have never been violent" and criticized Uruguayan authorities for the strong security ring along the bridge. "In this long fight, we've never shown violent attitudes. This is the sixth march onto the bridge that we have organized and there have never been any incidents. It's hard to understand the Uruguayan police and security forces display: it looks more like a provocation", added Pouler.
The two marches on both sides dissolved peacefully.
This week Uruguayan president José Mujica is scheduled to fly to Buenos Aires to meet Cristina Fernández de Kirchner to work of the following steps of the conflict which was mostly solved by the April 20 International Court of Justice judgement, with the exception of the pickets and activists who refuse to accept the situation.
While the two presidents most probably will agree on a system to permanently and jointly monitor the pulp mill and its environmental impact on the water and air, Argentina must find a way to remove the pickets.