Canadian Fund Invests in Uruguay's Flagship Carrier PLUNA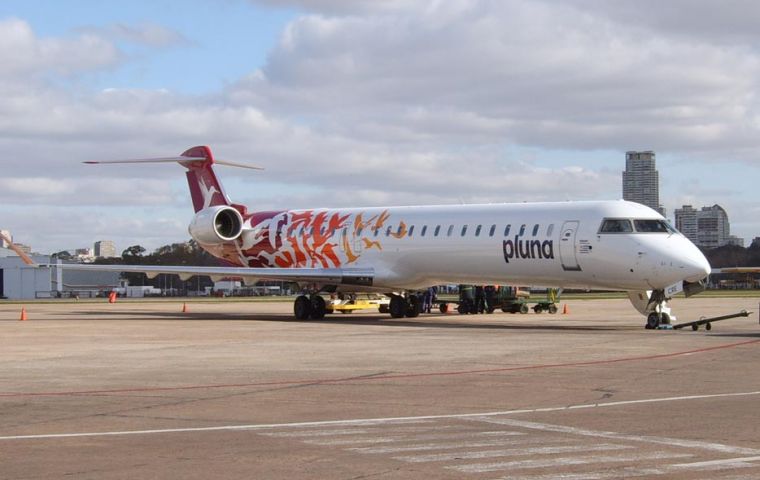 Jazz Air Income Fund has agreed to invest 15 million US dollars for an indirect stake in Uruguay's flagship carrier, Pluna. The fund behind Air Canada's regional affiliate, Jazz Air, said that it will get a one-third, non-voting interest in Latin American Regional Aviation Holding Corp., which owns 75% of Pluna Lineas Aireas Uruguayas. The remaining 25% of Pluna is held by the government of Uruguay.
"The South American air travel market is one of the world's fastest growing and this investment provides Jazz Air Income Fund with an exciting opportunity to participate in that growth," said Joseph Randell, president and CEO who will be sitting at the board of Pluna S.A. "We chose to invest in Pluna because we see the value and opportunity in the niche markets they serve, and we believe they have a solid business plan," Mr. Randell said in a news release.
This is Jazz first overseas investment and before reaching a decision "we took into account the international reputation of Uruguay, particularly regarding its institutions and the reliable, stable, rules for foreign investors in a framework of juridical certainty".
Mr. Randell said Pluna's main hub is a new state-of-the-art airport terminal in the capital of Montevideo, and added that Pluna's service extends beyond Uruguay to Argentina, Brazil, Chile and Paraguay. He noted that Jazz and Pluna both use regional jets and operate as regional carriers.
"We are very excited about this new partnership with Jazz," said Matias Campiani, chief executive officer of Pluna. "Not only will this investment facilitate our growth plans, we believe that Jazz's operational expertise and experience will enable Pluna to realize upon synergies that will strengthen our business," he said.
Campiani said that in 2007 "we promised the Uruguayan government to make Pluna a profitable carrier, having increased the number of passengers from 300.000 to 700.000, plus renovation of the company. Today we have a new commitment with Jazz investors to re-launch growth for the benefit of all those identified with Pluna and for our clients in Uruguay and the region".
Pluna currently operates six CRJ900NextGen aircraft made by Canada's Bombardier Inc. with 90-seat configuration. Pluna recently announced it has signed a follow-on firm order with Bombardier Aerospace for three additional CRJ900NextGen regional jets and has taken options on an additional six CRJ900NextGen aircraft.
Jazz has embarked on a strategy to broaden its base and reduce its overall reliance on Air Canada, its former parent company and still its largest customer. Most of Jazz Air's capacity is purchased by Air Canada.