Electoral Reform Shapes as Key Issue for Next UK Government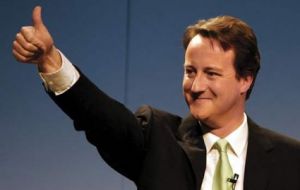 Electoral reform is shaping up as the key issue in determining what sort of government would emerge in the UK if the May 6 General Election results in a hung Parliament. Liberal Democrat leader Nick Clegg indicated that a deal on proportional representation would be essential to any pact if his party holds the balance of power, describing it as an "absolute pre-condition" for renewal of Britain.
At a press conference at Conservative HQ in London, David Cameron avoided making an explicit commitment to preserving first-past-the-post voting for Westminster elections when pressed on the issue. But the Conservative leader made clear he does not want to ditch the existing system. And he made it more difficult for himself to strike any eventual deal with Lib Dems by saying a change to PR would be "a big, big mistake for this country".
In an appeal to Lib Dem supporters—and those who are considering switching to the party in the wake of Mr. Nick Clegg's strong performance in the TV debates—Mr. Cameron said "people who have progressive ideals hard-wired into their DNA" should vote Tory.
Mr Cameron said Labour's slump in the polls had allowed Conservatives to "extend our battleground" to target seats previously regarded as safe Labour. But he denied this was also a reflection that formerly attainable Lib Dem marginal voters were now beyond their reach. He insisted a decisive majority for the Conservatives was the only way to offer Britain a fresh start and a "clean break" from the past.
But speaking at a press conference in Edinburgh, Mr. Clegg said only Liberal Democrats were offering "fundamental change". Mr Clegg did not rule out a deal with either Labour or Conservatives if May 6 produces an indecisive result, arguing that the key issue would be whether other parties are willing to sign up to the Lib Dems' four priorities, including PR. And he reignited speculation that he may be willing to form a pact with Labour if Gordon Brown is removed as leader, by naming Alan Johnson as someone who apparently shares his views.
The Lib Dem leader rejected the "dusty convention" that the Prime Minister should be given first chance to form a Government, even if his party has come third in terms of votes, saying that the opportunity should first be given to the party with most seats and votes.
With opinion polls continuing to suggest a three horse race as Election Day approaches, parties are increasingly focusing on which way the Liberal Democrats would lean if they hold the balance of power. Tories have warned that voting for Lib Dems could leave Britain "stuck" with Mr Brown after the election.
But Labour's campaign chief, Lord Mandelson, sought to turn round the Tory attack by claiming that Mr. Clegg had shown his preference to side with Conservatives in a coalition and warning that "voters who flirt with Nick Clegg are likely to end up married to David Cameron".
Mr Clegg yesterday underlined his call for "fundamental change" in Britain's politics, economy, public services and taxation, adding: "If the Tories or anybody else were to suddenly announce that they agree with these changes, then no-one would be more delighted than me [...] What I care about is not the label on the politician, but the changes we are seeking to deliver for the benefit of the British people."
He added: "I think electoral reform is a first step which any government of whatever composition will need to introduce to start restoring public trust in the system [...] I don't think after this election it will ever be possible to put the genie back in the bottle. Electoral reform is an absolute pre-condition for renewal in this country."
Asked if he would be willing to countenance a switch to PR—or a referendum on voting reform—if he is Prime Minister, Mr. Cameron said: "I don't want the electoral system to change; I think it would be a big, big mistake for this country".
The "great con" about PR was that it would take power away from the people and put it in the hands of politicians by ensuring that future governments would emerge from post-election back-room deals rather than the votes cast on the day, said the Tory leader. "Elections should be decisive events, where the public choose who they want to be the Government, not the politicians," he said.
However, when asked several times whether he could rule out presiding over a switch to PR, Cameron avoided giving a pledge to preserve first-past-the-post system. Despite failing to restore a clear lead in the polls, Mr. Cameron insisted Tories were still "aiming for a majority government" and thought it was "do-able and deliverable."