P&O Azura Calls in Gibraltar on its Maiden Voyage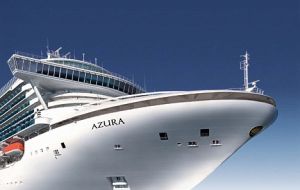 The newest addition to the P&O fleet the magnificent Azura sailed into Gibraltar on Sunday. The 289.60 meter vessel with 17 decks high, carrying 2.816 passengers and 1.241 crew members arrived in port at 12:30hrs reports the Gibraltar Chronicle.
The History Alive soldiers together with the MH Bland ape and dolphin mascots Rockie and Belle were all part of the local welcoming committee. The Gibraltar Regiment Band gave a rousing performance on the quayside on departure which was thoroughly enjoyed by passengers who turned out on by their hundreds to watch.
Local dignitaries including Albert Poggio from the UK GTB office, Peter Canessa, Principal Secretary-Department of Trade & Industry and Nicky Guerrero, Chief Executive- Gibraltar Tourist Board together with various port officials where invited onboard by Captain Andrew Dowds for a reception and tour of the ship. Plaques were exchanged by all parties.
Captain Dowds expressed his pleasure at being able to bring his guests to Gibraltar stating that both passengers and crew felt very safe and at home during their visits here.
Although an identical sister ship to the Ventura she has a very different ambiance about her. The Azura blends all the much-loved P&O Cruises traditions with exciting modern luxuries and innovations.
The Azura is on her maiden voyage after having been officially christened by her Godmother Prima ballerina Darcey Bussell CBE on Saturday April 10. She has visited Malaga, Katakolon (for tours to Olympia), Corfu, Dubrovnik, Venice, Korcula and Gibraltar before returning to Southampton on Wednesday 28 April. She is due to sail into Gibraltar a total of 9 times in 2010.
Azura was built at Fincantieri's shipyard at Monfalcone, Italy, and has a displacement of 116.000 tons.