Argentine Coast Guard Arrests Korean Jigger for Illegal Fishing
Friday, April 30th 2010 - 03:04 UTC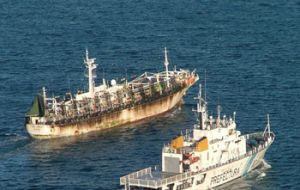 A Korean jigger was arrested this week in the South Atlantic by the Argentine Coast Guard allegedly for illegal fishing and a catch of 80 tons of squid was seized.
According to an Argentine Naval Prefecture's (Argentina's Coast Guard) release, 315 Sun Hae was operating one mile inside Argentina's EEZ, off the San Matías Gulf to the South of Quequén, Province of Buenos Aires.
Apparently, the Korean jigger tried to evade the Coast Guard unit Mantilla, by sailing towards international waters and disconnecting the AIS (automatic identification system) after it was ordered to prepare for boarding and inspection.
However, Mantilla managed to outmanoeuvre 315 Sun Hae which was rapidly boarded by a Coast Guard team that confirmed she had no fishing licence and carried 80 tons of frozen squid in the hold.
The 49-metre-long jigger has a crew of 34 and with home port at Seo Gu Busan. Her last call was Montevideo, December 7.
The other big news besides the capture of the jigger is the fact that Mantilla had women among its crew and officers, a first experience for the Argentine Coast Guard.