Bolivian President Again Attacks "Hormone Loaded" Farmed Chickens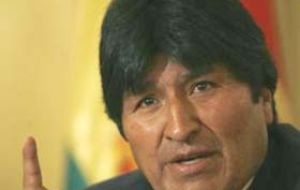 Bolivian president Evo Morales again referred to the harmful effects of consuming transgenic food, a week after he triggered an international outrage when he said that eating chicken, manipulated with hormones, caused "sexual deviations and boldness" in men.
Addressing a rally of peasants, Evo Morales said that when he is invited to share "hormone stuffed" farmed chicken he feels angry because "our (organic) domestic chicken is sweeter, more tasteful and not harmful".
Morales underwent a barrage of criticism when he said during the opening of a grass roots alternative conference on climate change that "the chickens we eat are loaded with hormones" and that is why men when feed on chicken "suffer deviations in their manly attitudes and behaviour".
He was later forced to send a letter to gay and lesbian organizations apologizing for the alleged link between transgenic food and homosexuals and his "homophobic attitude". "I don't have to correct myself because I'm convinced that transgenic food is very harmful, it has been proved scientifically", he insisted. He went on to say that "some will ignore my words, but not long from now they will admit we are right; I have no qualms about continuing to affirm what I'm saying about transgenic food", the Bolivian president underlined.
Morales said that he had a dream which is that in five years Bolivia can be declared "a territory free of transgenic seeds".
"As I have repeatedly insisted, Bolivia must be a territory free of illiteracy, I am saying Bolivia must be a territory free of food with genetic modifications. This will also mean Bolivia will be showing the way to the world in such sensitive issues", said Morales.
The Bolivian president also attacked Dutch frozen chip potatoes and Coca Cola, which he also described as extremely negative for human health.