Corruption Claims in Argentine/Venezuelan Trade Involve Néstor Kirchner
Monday, May 3rd 2010 - 08:02 UTC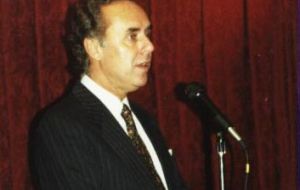 The Argentine political establishment is agitated after the heavy remarks made before a federal judge by former Argentine ambassador to Venezuela Eduardo Sadous, who said local businessmen had to pay kickbacks to former president Néstor Kirchner administration officials to be able to export their goods to Venezuela.
The government of President Cristina Fernández de Kirchner has downplayed all allegations while the opposition sees the case as an opportunity to attack the ruling majority and its plans to again propel Néstor Kirchner as presidential candidate in 2011.
Argentine Interior Minister Florencio Randazzo stated that "I haven't seen a single businessman who had come out to stage to ratify what Eduardo Sadous said. Plus it makes no sense that who receives a bribe extends a receipt to whom pays it. That's something I have never seen," the Minister said ironically. Randazzo also justified the existence of mediators at international deals level, "It's a very common practice within the international trade world."
Apparently, an office in Miami—identified as Palmieri—was in charge of handling all trade between Argentina and Venezuela, through which payments were skimmed. Cabinet Chief Aníbal Fernández, in turn, said in a radio interview that the courts must probe the allegations.
Vice President Julio Cobos, echoed the controversial case and considered that all bribery allegations "must be investigated." Cobos also emphasized that "It's pure utopia to talk about a spotless government with not a single corruption case."
Opposition Deputy Elisa Carrió (Civic Coalition, Federal Capital) also came to light and stressed the bribes paid by the local businessmen amounted to 25% of their exports. "Fifteen percent went to Caracas and 10% to Argentina, where the money went directly to Kirchner," she said. The Civic Coalition has sued the former president, charging him with establishing a "criminal association" with Venezuelan President Hugo Chávez.
Meanwhile, Venezuelan businessman Guido Alejandro Antonini Wilson, who is accused of having tried to enter the country (August 2007) with a briefcase that held 800,000 US dollars told a local tabloid that former head of the Occovi agency Claudio Uberti "had set an office in Caracas just to collect kickbacks." Wilson also stated that the pay of bribes to Kirchner's government was "vox populi", and added that a high ranked Venezuelan state-run PDVSA oil company director "tried to stop Uberti's business' scheme but he couldn't as he was immediately removed after Néstor Kirchner asked for his head".
Antonini, travelling in a private jet with other Argentine and Venezuela officials, was asked to bring the briefcase with the money—allegedly for then Senator Mrs. Kirchner presidential campaign—but was caught by a Customs shift unaware of who the passengers were. The jet was late leaving Caracas and arrived in Buenos Aires after midnight to an unsuspecting team of Customs officers doing their duty.