UK Hung Parliament, 43% or Tories, 36% Anticipates The Guardian/ICM Poll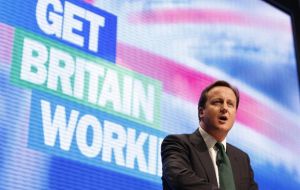 All three British main parties will have reason to be disappointed if the Guardian/ICM eve-of-poll survey is reflected in election results Thursday night. The Conservatives are set to fall well short of the convincing majority that, not long ago, seemed within their grasp. Labour faces one of its lowest votes of modern times and the Liberal Democrats may fail to make their hoped-for breakthrough to second place.
The ICM poll suggests United Kingdom voters have engaged with the election but not picked a clear winner. More people think a hung parliament is likely than a decisive victory and opinion is split on which party leader would make the best prime minister.
Overall, 43% expect a hung parliament, against 36% who think there will be a Conservative Party victory. Only 12% think Labour Party will win. Most Labour supporters are resigned to either a Tory win or a hung parliament, while a majority of Tory supporters expect their party to win.
PM Gordon Brown's fate may depend on undecided voters, which Labour claimed to be finding in record numbers. In particular, the party needs to win back people who voted Labor in 2005, but are reluctant to tell pollsters what they will do now. If the majority of this group swings back to Labour in the last few hours of the campaign, the Labour vote could reach 30%. If they swing heavily against, Labour will end up battling the Liberal Democrats for second place.
On Wednesday's figures Labour stands to lose 96 seats on a uniform national swing—including former cabinet ministers Jacqui Smith and Charles Clarke, as well as the immigration minister, Phil Woolas.
Among people prepared to say how they will vote, Labour is losing support to both the Conservatives and Lib Dems. The party is retaining 65% of its 2005 support, compared with 85% for the Conservatives and 67% for the Lib Dems. About 12% of Labour's 2005 support has gone to the Conservatives and 19% to the Lib Dems.
Nick Clegg's party was the only one to gain overall during the campaign: compared with the last ICM poll carried out before Brown went to the palace, the Conservatives are down two points, Labour down two and the Lib Dems up five.
That should increase Lib Dem representation to more than 70 seats, compared with just 23 won by the SDP-Liberal Alliance in 1983 on a similar share of the vote. The Lib Dems hope to push their total well above 80 by making a string of gains in former Labour strongholds. Nonetheless, the party remains the main loser from first-past-the-post voting: 26% of the vote would bring about 160 MPs on a strictly proportional system.
David Cameron remains ahead as the preferred prime minister: 34% think he is the leader best suited to the job, against 21% who say Brown and 21% for Clegg. Less than half the people who voted Labour in 2005 think Brown is the best potential prime minister, although three-quarters of the party's present supporters back him. In today's poll, Labour appears to be benefiting disproportionately from support among female voters: 30% say they will vote Labour against 23% of men. The Conservatives are doing better among men.
Tory support is also much greater in the south and Midlands—at 44% and 42% respectively—than in the north of England and Scotland, at 26%. That suggests results may vary widely by region and type of seat. Analysis indicates the Conservatives are doing better in target marginals, although the small sample in these means it is not possible to calculate exact vote shares.
Meanwhile, Clegg has energized young voters: Lib Dem support is about 39% among people under 24. His party's performance will depend on whether this group, traditionally reluctant voters, turns out on polling day.
Finally, voters offer a mixed verdict on Labour's record in office. Asked whether the party has improved Britain or not since 1997, 28% say yes and 44% no, with 24% saying it has made no difference. Among present Labour supporters, 70% think the government has done well. Among people who backed the party in 2005, only 57% approve.
ICM Research interviewed a random sample of 2,022 adults aged 18+ by telephone on 3-4 May 2010. Interviews were conducted across the UK and the results have been weighted to the profile of all adults. ICM is a member of the British Polling Council and abides by its rules.