Honduran President Calls Brazil "Arrogant", Steps Down from Latam/EU Summit
Friday, May 7th 2010 - 21:34 UTC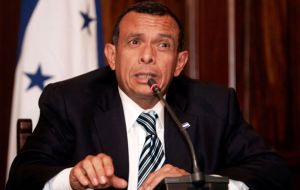 Honduran president Porfirio Lobo will not attend the LAC-EU summit in Spain later this month, after South American leaders who do not recognize him as his country's legitimate leader threatened to pull out. However, he will attend the EU/Central America meeting, which will be held a day later.
"If our presence in Spain following on an invitation from the EU sparks conflicts well, we won't be going", said Porfirio Lobo in Tegucigalpa. "I won't be a motive of conflict," he said, although he considers several South American countries are acting with "intransigence and arrogance" because they are hurting the Honduran people and the poor who depend from "friendly countries."
Several UNASUR countries including heavyweight Brazil, (plus Ecuador, Venezuela, Bolivia) have shunned contact with Lobo because the November vote that elected him was organized by the de facto government that took power after a coup toppled President Manuel Zelaya in June 2009.
Ecuadorian President Rafael Correa—while acting as pro tempore UNASUR—president spoke to Spanish Prime Minister José Luis Rodríguez Zapatero to settle matters. UNASUR position is not unanimous, since Colombia and Peru have recognized the elected government of President Lobo.
Lobo, who has been recognized by the United States, the European Union and most of Central America, will fly to Madrid where the May 18-19 summit is being held and will attend various meetings, but will stay away from the main European Union event.
"What we are going to do is to stay on the sidelines and in that way the initiative taken by the southern group will not hurt activities promoted by the Spanish government," Honduran Foreign Minister Mario Canahuati told local radio. Lobo will meet Rodríguez Zapatero and King Juan Carlos and joint talks between Rodríguez Zapatero and Central American leaders who do recognize Lobo.
Washington helped broker the election that brought Lobo to power and Secretary of State Hillary Clinton has urged reluctant South American countries to normalize ties. Zelaya was swept out of Honduras by soldiers in June after angering political opponents who accused him of trying to change the constitution in a push to run again for president.
Brazil, which sheltered Zelaya in its embassy in Tegucigalpa for months after he secretly returned to Honduras, has not ruled out relations with the new government, but wants a common position with the region. Zelaya flew into exile in the Dominican Republic on Jan. 27 when Lobo was sworn into office.