Falklands' Oil Discovery Announcement Has Rockhopper Shares up 32% Monday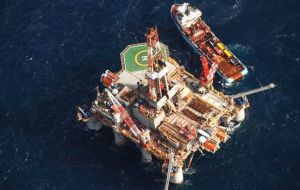 Shares in Rockhopper Exploration (LON:RKH) soared by 32% on Monday morning, after the latest results of its Sea Lion oil discovery in the Falkland Islands suggested a good quality reservoir.
The AIM-listed group said that after completing wire-line fluid and pressure testing at exploration well 14/10-2 located on the North Falkland Basin, all samples pointed towards moveable oil.
"All current indications are that the oil recovered is moveable which, if confirmed, would be further positive news. We will now wait for confirmation of the quality of the fluid as a result of the laboratory analysis," according to Rockhopper Exploration (LON:RKH) Managing Director Samuel Moody.
The group said that the ability of the sample chambers to fill rapidly was suggestive of a good quality reservoir with no evidence of any free water. Furthermore, pressure data came up "good" with pressure readings indicating two separate oil columns and no water sands.
However, the Ocean Guardian rig is not equipped to analyze the fluid samples, the group said in a statement, so further testing in a laboratory will take place.
The news comes just five days after the group watched its shares more than double in value as it announced news of the first oil discovery in the North Falkland Basin. Rockhopper attracted investors with news that is had discovered 53 meters of net pay in the well, after drilling to a depth of 2,744 meters.
The company now intends to run a liner and suspend the well for further testing and told investors that operations are expected to take a further week to ten days to complete. Fellow companies operating in the region were also enjoying the fruits of Rockhopper's discovery, with the likes of Desire Petroleum (LON:DES) shooting up 40%, while Borders & Southern Petroleum (LON:BOR) shares climbed by 17%.
News of last week's discovery came as a relief to investors who were left reeling after Desire Petroleum drew a blank at its Liz well at the start of April, in which Rockhopper owns a 7.5% working interest.