Bolivian Presidency Buys Manchester United Dassault Falcon Craft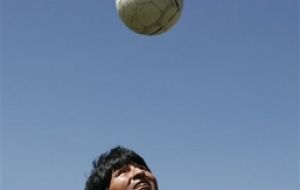 The Bolivian government confirmed this week that it has bought a luxury airplane model Dassault Falcon 900Ex Easy that originally belonged to Manchester United. The admission came in the midst of growing social unrest to protest for a higher national minimum wage.
"This is a plane that Manchester United ordered, paid for partially but then couldn't finish paying, so the company is selling it to us. It is new and has the safety features we require," said Economy and Finance Minister Luis Arce Catacora.
The French airplane is being purchased because President Evo Morales has been flying in an unsafe craft which is over 30 years old, he added. "We need a new plane immediately, we cannot allow the President to wait 24 months travelling in a plane with chances of a tragic accident increasing with every trip," said Arce Catacora.
The plane costs 38.7 million dollars and is being paid for by "savings generated by the ministries and not with resources destined for public investment," said the minister. "The decision to purchase the plane is a cabinet responsibility and we are willing to stand up to it, anywhere. It's a matter of national security, because the life of the president is at stake," said Public Works Minister Walter Delgadillo.
He added that it is well known the difficulties and frights "we have been through with the current presidential plane that dates back to 1975" and which some officials refer to as the "relic."
"It was a good deal; we were lucky because Manchester United decided not to complete the order," insisted Arce Catacora.
The Morales administration is also in talks with Russia for the purchase of a second presidential aircraft, an Antonov, with a going price tag of 40 million US dollars, apparently financed by Moscow. No further details of the operation have surfaced. The Falcon would be used for domestic and regional flights while the Antonov for travelling overseas.
Cabinet Chief Óscar Coca is expected in congress to explain before the Planning, Economic policy and Finance Committee of the Lower House the Dassault-Falcon operation. Bolivian union leaders are questioning the purchase of a luxury aircraft for a former union leader when, for example, "teachers are in the streets demanding a pay rise above the 5% awarded" for this year.