Brazil Furious with Argentine "Scare Practices" Threatens Trade Retaliation
Saturday, May 15th 2010 - 04:44 UTC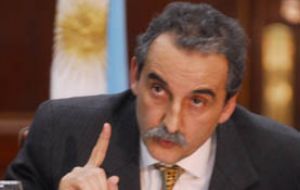 Brazil is seriously considering retaliation against Argentina for new rules restricting food imports which allegedly compete directly with Argentine production. EU ambassadors in Buenos Aires made a similar presentation before the Argentine congress earlier this week.
The unwritten rules aimed at limiting imports of foods that Argentina already produces have come into play in recent days, Argentine industry sources revealed, and "are causing an impact mainly on imports from Brazil" and to lesser extent the EU.
"The Brazilian ambassador is holding various meetings to try to avoid this" Brazilian Trade and Industry Minister Miguel Jorge told Folha de São Paulo. "We have an important flow of food products both to and from there," Jorge said, adding that Brazil had received no official notice of new restrictions. The import curbs would be "incompatible with World Trade Organization norms and Argentina's commitments in the G20," the EU delegation in Buenos Aires said in a statement released this week.
But Argentine Economy Minister Amado Boudou said the measures are "a policy that we've been developing since 2009, we need to see how we can preserve the trade balance and jobs in Argentina."
Argentina's March trade surplus shrank by 77% from a year earlier, which the government attributed in part to a strike by port workers that slowed grain shipments abroad. Boudou said the restrictions aimed "to preserve the quality of life among Argentines," adding that "Europe has farm subsidies, and the countries that champion free trade also have restrictions."
The unwritten rules were transmitted by Argentina's Domestic Commerce Secretary Guillermo Moreno, a controversial but all-powerful thug-style figure from the Kirchner bunker, who warned on the phone the main Argentine supermarkets not to import from Brazil goods which are also manufactured in Argentina.
"We are surprised that it is a verbal rule which is extemporaneous," said a representative from Argentina's supermarkets association who talked on condition his name was not published.
Brazil anticipated that it would retaliate by impeding access of Argentine similar goods to the Brazilian market, according to press reports. "We're trying to avoid a major confrontation but we are not willing to stand such nonsense. We have information that trucks in Customs have been stopped but mainly because Argentine importers don't dare introduce the Brazilian merchandise," said Minister Jorge.
Brazilian sectors set to be the biggest losers are chicken and pork exporters as well as those involved in production of tinned corn and tomato sauce.
"This way of interrupting trade without any official warning shows the lack of integration spirit in Mercosur; this can't happen among neighbours," said Francisco Turra, head of the Brazilian Chicken exporters association.
Paulo Tigre, head of the Rio Grande do Sul Federation of Industries (which neighbours with Argentina and Uruguay) called on President Lula da Silva to "put an end to non-written measures that threaten Brazilian exporters," recalling that Argentina has a comfortable food trade surplus with Brazil.
Argentina's food-and-drink sector exports 12 billion USD of processed products, and imports about 900 million USD, according to the National Administration of Drugs, Food and Medical Technology (ANMAT).
"All what the market demands in imported food products will be available in the country's supermarket aisles," Industry Minister Debora Giorgi said at an event in the central province of Cordoba. "Argentina works under the rules of the World Trade Organization and we will continue to do so," she added.
An ANMAT spokesperson said the agency will compile daily a list of products that need import approval for review by Domestic Commerce Secretary Moreno, who is known as the government's consumer price watchdog.