Terrorism turns some countries into 'useful idiots', claims Colombia's Uribe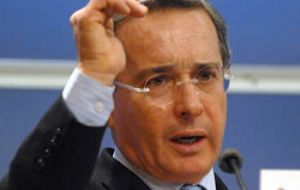 Terrorism knows how to convert some countries into useful idiots said Colombian president during an interview with Spanish media in the framework of the EU-Latam-Caribbean leaders' summit in Madrid.
"Terrorism is an illness that if not faced turns into metastasis and also knows how to convert some countries into useful idiots", said Uribe following his acceptance of the prize to the "Best Latinamerican Ibero-American politician of the decade" awarded by the Spanish editing group Intereconomia.
Asked about possible links between the Spanish terrorist Basque group ETA and the Colombian FARC guerrillas Uribe said that on several occasions "there has been some kind of dreadful exchange of criminal technologies among international terrorist groups, according to my country's intelligence services".
"I was a candidate back in 2002 and I heard that some of the explosives used at the time had that origin, ETA or IRA", said Uribe who on that year was first elected Colombian president and repeated in 2006.
"Terrorists are cunning and intrepid and are good at making some countries useful idiots by first courting them, later looking for refuge and finally sacrificing them", insisted Uribe who pointed out that fighting terrorism "must be a commitment of the whole humanity", since no one is free of such a "disease".
"Colombia is requesting from all Latinamerican countries a frontal, daring combat against terrorism" said Uribe criticizing the attitude of some leaders that act like "old communists", but feel ashamed of admitting that condition.
Uribe said the appreciated the prize "from his heart" but who really deserves it is the Colombian people for its duress to confront such challenges but at the same time its determination to find paths leading to better conditions and better times.
The Colombian president did a brief review of what he considered the success of his administrations in matters of security and economic and social progress.
This he said was based on three main pillars: security, promoting foreign investment and social policies.
Spain's main opposition leader and probably the country's next president conservative Mariano Rajoy praised Uribe's speech as "brilliant" adding the Colombian leader was an example of eight "magnificent" years which turned around a country that had been devastated by terrorism and lack of hope
"We are many in Spain who value the performance of Uribe and I only wish the Colombians make the right choice so these policies can be continued, ensuring Colombia every day is a better country, a better place to live", said Rajoy.
Colombia is holding presidential elections next May 30 and there is a technical tie in vote intention, according to opinion polls, between the incumbent and former Defence minister Juan Manuel Santos and a former Bogotá mayor, Antanas Mockus and his "green wave".