Argentina's May celebrations with multiple parades included Malvinas veterans
Monday, May 24th 2010 - 05:43 UTC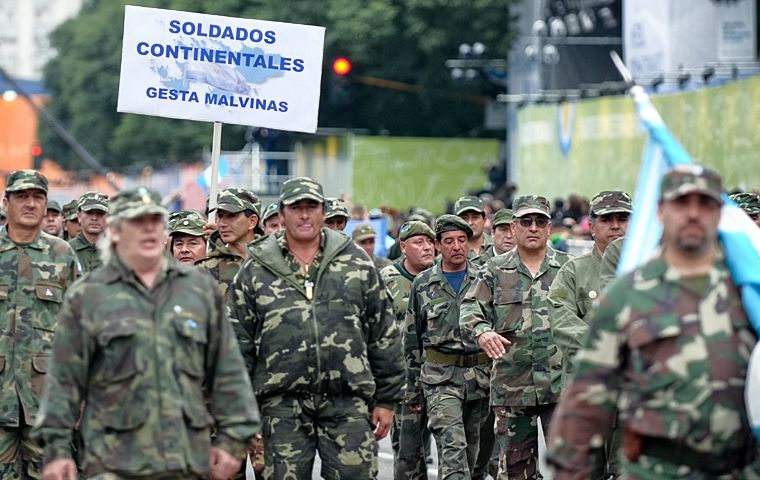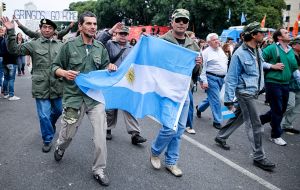 "Let the Bicentennial festivities begin" Argentine President Cristina Fernández de Kirchner announced on Friday and Argentina put its best military and musical display on Saturday in the build-up toward Tuesday's 200th anniversary of the country's nationhood Tuesday May 25.
On Saturday the big absentee at the military parade, including Malvinas war veterans, was Mrs. Kirchner leaving Cabinet Chief Aníbal Fernández to preside over ceremonies.
The colourful march of nearly 5,000 servicemen and police officers down Buenos Aires 9 de Julio avenue was witnessed by many more thousands, many of whom had arrived early to secure a privileged place to witness the parade, which started shortly after mid day and lasted over two hours.
Tanks had been ruled out in advance and adverse weather conditions prevented a flyover by Air Force jets but in many ways the absence of modern military technology was in keeping with the historic character of the Bicentennial march. Contrary to previous speculation that equine flu would rule out any horses, mounted units formed part of the parade (and also police dogs).
Aside from the presidential absence, virtually the entire Cabinet was present, except for Economy Minister Amado Boudou — absent with leave since he has been busy promoting his debt bond swap abroad.

Government sources explained that Mrs. Kirchner's presence had never been scheduled with her main role in the first days of the celebration limited to opening the festivities on Friday.
Aníbal Fernández said that the parade belonged to all Argentines, claiming it had taken 200 years for "a woman (CFK) to give the provinces what they deserved." His remarks also included a tribute to Argentina's founding father Juan José Castelli.
The parade not only included units of the three main armed forces (Army, Navy and Air Force) and the three main security forces (the Federal Police and the Border and Coast Guards) and but also Malvinas war veterans, the Atlantic Command and Blue Helmets (United Nations peacekeepers).
The Malvinas veterans (many of them marching with their families) closed out the parade — a moment of great emotion. The banner of every unit which fought in the 1982 conflict was on display.
Nor was the parade limited to Argentine units but included representatives of the "greater fatherland" of 1810 — military representatives of Brazil, Bolivia, Chile, Uruguay, Ecuador and Venezuela all paid tribute to Argentina's milestone with their respective flags.
Military bands had no monopoly to mark the Bicentenary. At midday tango icon Rodolfo Mederos, Bruno Arias and Los Carabajal visited the Gandulfo Hospital. In the early evening the Rosario Flag Memorial was honoured by a performance of the National Symphonic Orchestra directed by Carlos Vieu with tenor Drio Volonté, mezzo soprano Vera Cirkovic and a cross-section of Argentine music by Oscar winner Gustavo Santaolalla.