Insulza takes oath as OAS Secretary General for second five-year period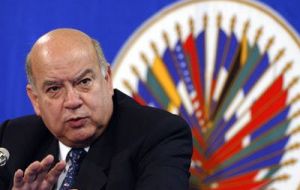 The Organization of American States (OAS), Secretary General Jose Miguel Insulza will be sworn Monday for a second five year term. Chilean born Insulza will take the oath at a special meeting of the OAS Permanent Council in Washington DC.
Insulza was re-elected by acclamation last March 24. During his first five years Mr. Inzulza faced two major crises: in March 2008 when Colombian troops attacked and destroyed a guerrilla camp next to the border but on Ecuadorian soil and the June 2009 cup when Honduras elected President Manuel Zelaya was ousted.
Another issue was the earthquake in Haiti which is estimated to have killed 300.000 people leaving a devastated country with international promises of reconstruction funds many of which are still waiting to be materialized.

An issue that still divides Latinamerican countries is spite of an electoral process which respected Honduras' political timetable.
The next important event in OAS calendar is the 40th General Assembly to be held June 6 to 8 in Peru.
In an advance of the meeting Insulza said the Lima Declaration would include subjects "related to the promotion of peace, security and cooperation in the Americas, and the need to promote mutual trust-building measures." He added that "other highly relevant issues in the region, such as crime, development, and drug trafficking also will be included in the debate."
Insulza explained that Haiti will continue to be one of OAS top priorities and that "this will surely be reflected in the declarations and dialogues to be held in Lima
Currently, the OAS has 63 Permanent Observer countries and the European Union. The participation in the OAS of countries outside the hemisphere was instituted in 1971 through a General Assembly resolution. The support that those countries provided to OAS programs and activities in 2009 was about 20 million dollars. In the framework of the annual OAS General Assembly, the Permanent Observers hold a dialogue with the Heads of Delegation.