Argentina "leading country" in nuclear energy development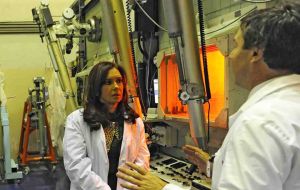 Argentina is a showcase for the world in the research and development of nuclear energy for peaceful purposes and this has been the excellent work of Argentine scientists helping to keep the country's Atomic Energy Commission (CNEA) alive, said President Cristina Fernandez de Kirchner on the sixtieth anniversary of the institution.
Addressing the 3.000 workers of the Ezeiza Atomic Centre, Mrs. Kirchner said that Argentina's second nuclear power plant Atucha II will soon begin production helping to inject more energy to the national grid.
"The nuclear future of Argentina, based on its current successes is very promising and we are doing it with federal criteria", emphasized Mrs. Kirchner following her visit to the Radioisotopes Production Plant.
"Before addressing you I went over the plant and your excellent work which has Argentina as a leading country is the production of nuclear energy with peaceful and scientific purposes", said the Argentine president adding that "we are producing low enriched uranium, at less than 20% which has us in the vanguard of the world industry".
"We need to keep adding value to our scientific and technological production, and that is why we are renovating the plant and contracting young engineers, physics and chemistry professionals. This is crucial for Argentina's future and we will provide the funds".
During the celebration CNEA President Norma Boero and Federal Planning minister Julio De Vido signed two agreements: one for uranium prospecting in the province of La Rioja and a second to install an atomic reactor Carem power 150 MW in the northern province of Formosa.
"The concept of 'federal' means taking nuclear activity, state of the art technology, industrial development and power to the province of Formosa", said Ms Boero who underlined the significance of "taking nuclear development to the rest of the country and train the locals for maintenance and operational purposes".
Ms Boero also mentioned that Argentina's CNEA has consolidated as international reference in the provision of nuclear products and services, exporting research reactors, radioisotopes production plants, nuclear medicine software and so many other activities".
During her tour of CNEA grounds Mrs Kirchner was also taken to the area for production of Molybdenum 99, described as a great advance in the radioisotopes industry and nuclear medicine helping with the early and effective detection of anatomic alterations, in many cases related to incipient possible cancer cases.
Last year Argentina and Brazil signed an agreement for the supply of molybdenum 99 (Mo99) isotopes and since July 2009 the Ezeiza plant makes weekly shipments to Sao Paulo. Mo99 are used for the early diagnose and treatment of cancer.
Brazilian demand has helped double Mo99 production in Ezeiza.
CNEA was created May 31, 1950 and has facilities in the Centro Atómico Bariloche (Patagonia), Centro Atómico Constituyentes (Buenos Aires City) and Centro Atómico Ezeiza (in Buenos Aires province). All these locations have research reactors.
Argentina currently has two operational nuclear power plants: the 335-MWe Atucha I built by Germany's Siemens and the 600-MWe Embalse built by Canadian Candu. A third one, the 692-MWe Atucha II is under construction.