Paraguay admits pressure from Brazil to vote for Venezuela's Mercosur incorporation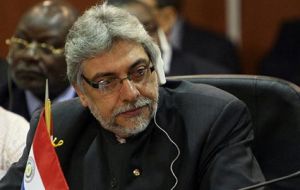 Paraguayan President Fernando Lugo admitted he called on Congress to reach a consensus to vote the incorporation of Venezuela to Mercosur, since Argentina, Brazil and Uruguay have already done so and 'only Paraguay is missing'.
Lugo argued that Venezuelan should not be identified with its current president Hugo Chavez who is seriously criticized by Paraguayan lawmakers for his 'undemocratic' attitudes towards the opposition and the press, and a permanent interference in other countries domestic affairs.
President Lugo revealed that earlier this week during lunch shared with the heads of the other government branches, Congress and the Judiciary, he requested Senate leader Miguel Carrizosa to help find a consensus that could open the way for Venezuela to join Mercosur.
The Paraguayan president said he would not lobby for such an initiative since "that is up to Congress and the people, but I have also stated and I told Senator Carrizosa that Paraguay must seriously address the issue of Venezuela's Mercosur incorporation".
He added that "we must not identify Venezuela with President Chavez. Tomorrow he might no longer be president".
Given this situation "I told Carrizosa we must sit, talk and reach a consensus to see what is more viable and better for the region".
The incorporation of Venezuela has proved to be highly contentious: it took Lula da Silva almost three years to convince the Brazilian Senate and after much negotiations and exchange of favours with the Upper House leader Jose Sarney who was under a barrage of corruption claims involving him and his family.
Paraguayan senators of whom President Chavez has not referred to in kind works and certainly are no probity saints, have stubbornly rejected any consideration of the issue.
But pressure from Brazil and Argentina on landlocked Paraguay can be very effective given its geographic and trade dependencies.
Vice-President Federico Franco who is the natural link between the Executive and the Legislative is known to be point blank against admitting Chavez' Venezuela into Mercosur, but has admitted that if President Lugo openly calls for a positive vote on the matter, he "will not be an obstacle".
Both houses of Paraguay's congress must approve the incorporation before the bill is sent to be signed by President Lugo. However since the ruling coalition that supported Lugo has splintered, he has no majority in any of the two houses and is forced to negotiate.
Precisely on Friday one of Paraguay's main dailies had an editorial on Venezuela and Mercosur calling on Senators not to yield to Brazilian and Argentine pressure and their "spurious business interests" with President Chavez.
"No principles matter, not even the atrocious ring to which Chavez is subduing Venezuelan democracy, only money matters", says ABC Color recalling that was the clear, unruffled direct message from President Lula da Silva's main advisor, Marco Aurelio García when he visited Asunción this week, "it's all about oil and energy".