Buenos Aires has 15.000 'reported' homeless of which 4.500 children
Wednesday, June 16th 2010 - 04:39 UTC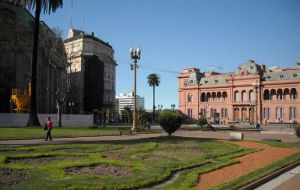 At least 15.000 people live in the streets of Argentina's capital Buenos Aires where last year 113 died because of the cold or lack of medical assistance, warned a report from a Non Government Organization, Doctors of the World and Project 7.
Of the homeless in Buenos Aires, 4.500 are children and 2.000 elderly according to the report that was presented Tuesday at Buenos Aires Town Council.
"In the city there are refuges with 1.700 beds where people queue up earlier evening to spend the night and must leave by 07:00 in the morning. This is clearly insufficient to lodge all the homeless" said Councillor Laura García Tuñón who made the official presentation.
García Tuñón also revealed that last year 30.000 people were evicted from occupied housing and that the city's budget for social development and services remains virtually unexecuted.
She also reported of additional difficulties faces by the homeless to have access to social benefits.
"For many homeless it's hard to get hold of a document since they can't apply unless they have a reported address", said Ms García Tuñon who added that the report also includes a bill which recognizes many of these rights for the homeless including the proposal for a so called "social address".
With a document Argentine residents can have access to a universal child allowance, which for those unemployed is the equivalent of 38 US dollars per child as long as they go to school and are vaccinated.
According to Buenos Aires City Social Development minister Maria Eugenia Vidal the number of homeless or living in the streets of Buenos Aires amounts to 1.400, double the number three years ago.
Argentina's Statistics and Census Office, the much controversial Indec, reports that in the second half of 2009, urban poverty was 13.2% which is equivalent to 692.000 homes. On the same parameters poverty in the city of Buenos Aires is estimated in 6.1% of its three million inhabitants. But again it is well known that Indec statistics are manipulated.