Uruguay concerned with Argentina's construction of atomic power plant
Thursday, June 24th 2010 - 05:56 UTC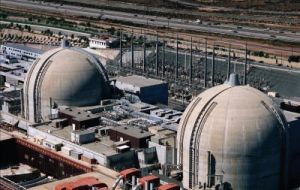 Uruguay is considering an alleged Argentine violation of the UN Nuclear Security Convention since it was never notified of the construction of the Atucha II atomic power plant, 100 kilometres to the north of the capital Buenos Aires and which is one of the country's main public works.
According to Uruguay's main daily El Pais, quoting reliable government sources, the Executive is considering Argentina's "non compliance" of the nuclear security procedures, but has yet "to define how it will address the issue".
Apparently the issue was not discussed on the regular Monday cabinet ministerial meeting but the news was not confirmed or dismissed by several officials consulted.
El Pais recalls that both Uruguay and Argentina ratified the Nuclear Security Convention in 1994 in Vienna, Austria at the office of the International Atomic Energy Agency.
According to the convention countries with atomic power plants have obligations and duties they must comply with neighbouring countries, mainly that they must inform them of their nuclear energy development plans.
Argentina has two nuclear reactors generating nearly one-tenth of its electricity. Its first commercial nuclear power reactor Atucha I began operating in 1974, the second Embalse in Córdoba, 1983 and completion of the third reactor is expected by early 2011.
The Montevideo daily underlines the "parallelism" between the Atucha II case and Uruguay's decision not to inform Argentina regarding the construction of the Botnia/UPM pulp mill in shared waters of the River Uruguay which triggered a several year long conflict, and currently is on course, hopefully, to a definitive solution.
In related news Uruguayan Senator Lucía Topolansky, wife of President José "Pepe" Mujica, stated that "the eventual bilateral monitoring of the UPM paper mill must be extended to the entire Uruguay River, including Brazil, to preserve the "good health" of the regional river bed.
"The river begins in Brazil and runs through three countries. The waters don't ask for permission to go through customs when they cross borders. They just keep going," she stated, while considering that "an eventual tri-national control will be positive for the three countries and their relationships with each other since we will all be aware of the river's environmental situation."
After being criticized by the opposition over arguments that a joint monitoring with Argentina would mean "giving away part of their sovereignty," she replied that "in a globalized world that is beginning to move in regional blocs, all countries are giving away some of their sovereignty while going after something they consider to be more important."
Mrs. Topolansky concluded by saying that the joint monitoring will run tests all across the river's shores and that they will be about "technical, not political control."