Brazil to implement new banking reserve requirements bases on Basel Index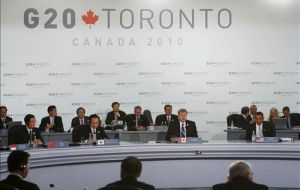 Brazil's government will implement new reserve requirements on credit operations undertaken by the nation's banks, in compliance with the latest changes in the Basel Index, by 2012, the Central Bank of Brazil said in a statement Monday.
The latest changes in the Basel Index were agreed upon by leaders of the Group of 20 nations following the 2008 global financial crisis. Brazil is a member of the G-20, considered the 20 most important economies in the world.
The Basel Index sets reserve requirements over credit operations. The G-20 leaders have sought to tighten parameters for reserve requirements, under the Basel Index, as a way to assure greater prudence by banks in conducting credit operations.
In its statement Monday, the central bank said it will introduce the new Basel Index reserve requirements in two stages, in January 2012 and July 2012. The statement said Brazil's implementation of the new requirements was "in compliance with the international timetable for introduction of the new rules."
"These measures will strengthen the nation's financial system," said the central bank. "We will be implementing international standards in accordance with G-20 determinations. The measures will improve risk management in the market and ensure the competitive position of Brazilian financial institutions.