Argentina analyzing Uruguayan counterproposal for joint river monitoring plan
Thursday, July 8th 2010 - 08:13 UTC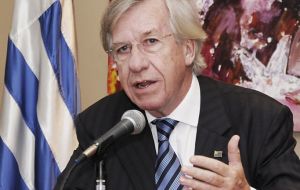 "The ball is now on the Argentine court" said Uruguayan Vice-president Danilo Astori commenting on the country's counterproposal for the monitoring plan to be jointly applied with Argentina to pulp mills, other industries and urban locations straddling the shared River Uruguay.
The original schedule was for Uruguayan Foreign Affairs minister Luis Almagro to travel on Wednesday to Buenos Aires with the counterproposal, but to avoid any leaks, expectations or expectations he flew to the Argentine capital on Tuesday when he met with his peer Hector Timerman.
According to Mr. Timerman the Uruguayan government basically accepts Argentina's proposal for an internal monitoring plan at the Botnia paper mill, which has been at the heart of the several years bilateral dispute (because of the alleged water and air pollution), but the measure must also be applied to the rest of the paper and pulp mills located along the Uruguay River coastline.
"I met with Almagro after midday (Tuesday). He asked me to come and see me and handed me the counterproposal", said Timerman who nevertheless added he did not have much time to analyze the Uruguayan proposal, but did ratify the monitoring inside Botnia as originally proposed by Argentina.
"This has been a great effort; it has really cost a lot of time and suffering. During four years we were unable to reach nothing and now in 60 days we should be solving the problem. So we must handle the whole issue with the greatest caution", said Uruguayan diplomatic sources.
Vice president Astori said that no further details of the negotiations will be made public until President Jose Mujica fully evaluates the situation, meanwhile "as I have said we are waiting for a statement from Mr Timerman, the ball is in the Argentine court".
Tuesday a week ago Timerman visited Almagro and President Mujica in Montevideo when he delivered the original Argentine proposal for the joint monitoring of the Uruguay River to asses the impact of the Botnia pulp mill on the shared water course.
Meanwhile Timerman insisted that "science is the one that should control the environment" rejecting the chance that members of Gualeguaychú Environmental Assembly could be part of the monitoring plan. Representatives from the Gualeguaychú Assembly who protested against the pulp mill by blocking since 2006 a bridge linking both countries, this week were invited by Timerman to Buenos Aires to talk about the possible monitoring plan.
So far no new ministerial bilateral meeting has been scheduled but 35 days have gone by since presidents Mujica and Cristina Kirchner met in Uruguay to set the road map to solve the problem and criteria for the joint monitoring.
At the presidential summit, June 2, both leaders agreed on a 60 day period to have the monitoring agreed and ready to apply. It also happens to be the self imposed dead line from then Gualeguaychú pickets who have promised to return to the bridge if no understanding is reached at government level by day 61.