Kirchner couple fortune climbs 20.6% in one year totalling 14.5 million USD
Friday, July 9th 2010 - 05:10 UTC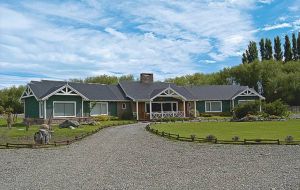 The fortune of Argentine presidential couple, President Cristina Kirchner and her immediate predecessor and husband, Nestor Kirchner jumped 20.6% in 2009 totalling the equivalent of 14.5 million US dollars, and soared 700% since they first took office in 2003, according to their latest income statements delivered to the country's Anti Corruption Office.
According to Buenos Aires daily La Nación the statement points out that the cancelling of debts plus the appreciation of shares in two of the couple's three companies, hotels and lodges in Patagonia's EL Calafate contributed to the improved 2010 presentation.
Debts which amounted to 4.87 million US dollars in 2008 were down to 1.57 million last year following on income from rents, lodging and interests on bank deposits which totalled 4.18 million US dollars.
Net assets in Los Sauces and Hotesur which manage two exclusive hotels in El Calafate also increased considerably during the last year, according to the statement.
The speed with which the Kirchner couple has seen its fortune grow has been a recurrent motive of controversy in Argentina, particularly in the 2008 statement when net assets soared 158% to 12.1 million US dollars.
That year also Mr Kirchner purchased two million US dollars in the Buenos Aires money exchange market and in the midst of the global financial crisis, allegedly for a real estate operation.
The couple and several of their closest aides have been accused of purchasing from the Santa Cruz province government (their political turf) land at rock bottom farm prices which rapidly were converted into urban and suburban districts in exclusive resort areas valued in millions of dollars.
However several illicit enrichment claims filed in Buenos Aires did not prosper or were shelved with the same prosecutor involved in all cases.
At provincial level in Santa Cruz, a local magistrate and a relative of the Kirchner has impeded the investigations from advancing, claims the opposition.
The couple's annual income as president and former president totals the equivalent of 136.000 US dollars.
In a more detailed analysis of the Kirchners' assets, based on an audit from a Supreme Court accountant, Alfreto Popritkin, when they first arrived in Buenos Aires, 2003, the couple had 2.905sq mt. in 18 houses; 688sq mt in four flats; 558sq mt in two commercial outlets and 2.100sq mt in an only plot of land.
At the end of 2008 assets included 1.736 sq mt in five houses; 857 sq mt in 11 flats; 16.513 sq mt in 13 commercial outlets and 183.424 sq mt in seven plots of land. This means that the area in real estate between 2003 and 2009 sky rocketed 3.240%.
But when it comes to plots of land the increase reached 8.734%.
This includes a brilliant deal: a plot of land in El Calafate purchased in 2006 at the equivalent of 38.800 US dollars. The same plot was sold January 2009 for the equivalent of 1.8 million US dollars.
Mr Kirchner apparently also loves the Honda CRV model which he has routinely changed every year, according to his income statements.
The Kirchners arrived in Buenos Aires in 2003 with a significant asset in houses and real estate because when they moved to Santa Cruz province and before getting involved in politics both worked as bank mortgage repossession solicitors.
One of the several books written about the couple when they were beginning in Santa Cruz in the seventies recalls Mrs Kirchner's comment when asked by a friend if 'repossession wasn't an unpleasant job", having "people evicted from their homes".
"We intend to get involved in politics, and for politics you need money, a lot of money", was supposedly the reply of the current Argentine president.