Rescued-hostage Ingrid Betancourt has sued Colombia for 6.8 million USD
Saturday, July 10th 2010 - 07:35 UTC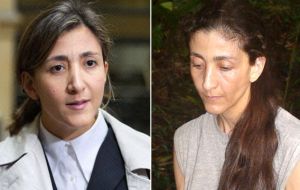 Colombian-French politician Ingrid Betancourt, who spent six years as a rebel hostage before being rescued, has sued the Colombian state over her kidnapping, sparking outrage from the government that freed her.
The suit seeks 6.8 million US dollars in damages from the state for emotional stress and loss of earnings while she was being held in secret jungle camps by Marxist guerrillas.
Colombia's Defence Ministry said Betancourt had no reason to blame the government for her kidnapping by the Revolutionary Armed Forces of Colombia (FARC) while she campaigned for the presidency in 2002.
State security officials had warned her against entering the battle-stricken area in southern Caqueta province where she was taken because it was filled with rebels at the time.
In July 2008, Betancourt's FARC jailers were duped into handing her and 14 other hostages, including three US anti-drug contractors, over to Colombian soldiers masquerading as members of a humanitarian group that had volunteered to fly them by helicopter to a new location.
"The Defence Ministry is surprised and upset by (Betancourt's suit), all the more due to the effort and zeal with which our public forces planned and executed the rescue" a ministry statement said in Bogotá.
"Men and women of the armed forces risked their lives while seeking the liberty of the hostages in an operation that Ingrid Betancourt herself called 'perfect,'" it said. The rescue was a humiliating blow to the FARC, which has been put on the defensive by a US-backed military campaign aimed at crushing the cocaine-funded insurgency.
Betancourt, a 48-year-old dual French-Colombian national, was nominated for the Nobel Peace Prize after her rescue and was seen briefly as a viable candidate in this year's presidential vote. But she has lived in Europe since being freed and the suit is not likely to help her popularity in Colombia.
Vice President Francisco Santos, visibly angry when asked about the suit by local television reporters, said it should be fought "until the end without conciliation of any kind."
Last week, Betancourt attended a two-year anniversary celebration of the rescue held at the US Embassy in Bogotá.