Buenos Aires City prepares for the coldest Saturday in recent decades
Saturday, July 17th 2010 - 06:01 UTC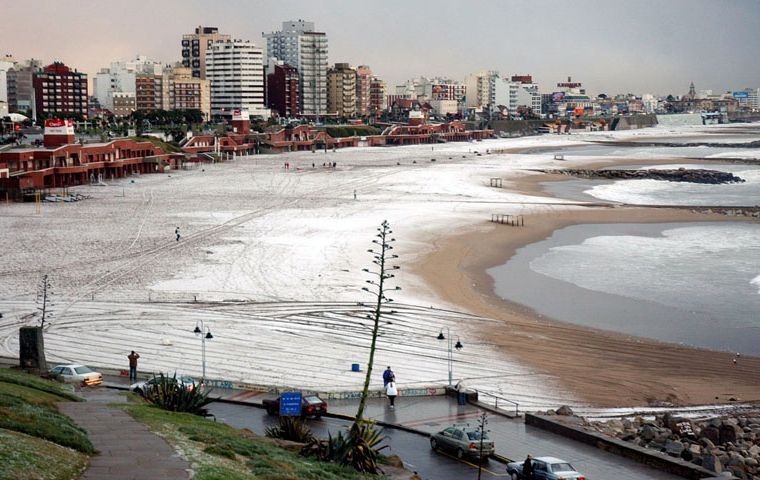 A polar air mass settled in Argentina the week of July 13, pushing temperatures down across the country and causing rare snowfall in the Buenos Aires province. People in downtown Buenos Aires City bundled up against the cold as temperatures ducked down near freezing.
Street vendors ran a swift trade in hats, scarves and gloves as rumors floated around that snow might fly in the capital. A snow in 2007 in Buenos Aires, the first in 89 years, touched off euphoria amongst residents.
Meteorologist Daniel Cortes said the cold air mass pushed up from Antarctica and settled in the middle of the country.
"The entrance of a cold front from the Antarctica into the middle of the country caused very low temperatures and snows in the province of Buenos Aires, especially on the coast," he said.
In Mendoza, 1.000 kilometers east of Buenos Aires, a skiff of snow blanketed the city that sits at the foothills of the Andes.
Cortes added that the cold weather had spread across the nation, even into the subtropical regions in the north bordering Brazil and Paraguay.
"The cold snap is going to continue. We had a very cold week. The cold air made it to Salta on Tuesday, to Posadas. It's remarkable when you have temperatures of 2 or 3 degrees Celsius in the north. It's really cold. The cold snap will continue, especially in the middle of the country. Tomorrow Saturday will be the coldest day in Buenos Aires, getting down to zero," Cortes added.
Beyond snows in Mendoza, local news stations showed images of the coastal resort city Mar del Plata, its beaches white with a skiff of snow, while towns less than 60 miles outside the capital reported snow on Thursday morning.
According to Argentina's Meteorological Office at 07:35 in the capital Buenos Aires the temperature plummeted to minus 1.5 Celsius, a record for the last decade.
The lowest temperature ever recorded in Buenos Aires City was 9 July 1918 plus a huge snowfall, said Miriam Andrioli from the Met Office.