Caracas rejects Colombian claims guerrilla leaders 'are tolerated' in Venezuela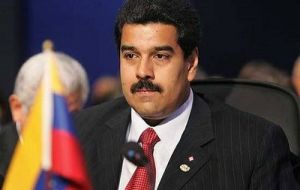 Venezuela has rejected Colombia's accusation that Caracas tolerates Colombian guerrillas on its territory. The charge was "a desperate attempt" to undermine relations between the two countries, particularly with the incoming administration of president-elect Juan Manuel Santos, the Venezuelan foreign ministry said.
It later recalled its ambassador for consultations. The Colombian government had said that it has clear evidence that five rebel leaders are sheltering in Venezuela.
The findings showed Venezuela's "continued and permanent tolerance" of guerrillas on its soil, Colombian Defence Minister Gabriel Silva said on Thursday.
He added that Bogotá had video recordings and the exact grid co-ordinates not only of the Revolutionary Armed Forces of Colombia (FARC) camps, but those of the smaller National Liberation Army (ELN).
Venezuelan President Hugo Chavez has denied supporting Colombian rebel groups.
Venezuelan Foreign Minister Nicolas Maduro said the accusation was a bid by Colombia's outgoing president to undermine attempts to improve ties ahead of President-elect Juan Manuel Santos taking office next month.
"As these steps [to improved relations] are going ahead, [President Alvaro] Uribe's government has decided... to dynamite the rapprochement," Mr Maduro said.
Bilateral relations, already strained, took a turn for the worse when Colombia agreed last year to display US forces use seven Colombian military bases for anti-drug operations.
Chavez said the move was a possible step towards a US invasion of Venezuela and he ended trade with Colombia.
Two years ago, Venezuela and Ecuador broke off diplomatic ties with Colombia after Colombian forces attacked a FARC camp along the Ecuadorean border, killing senior rebel official Raúl Reyes (plus 26 support forces) that was expected to take over as maximum leader of the guerrilla group.
Earlier this week Ecuador said that so far this year its national security agencies have found and taken control of 60 illegal facilities believed to belong to Colombian guerrillas.
Home Security Minister Miguel Carvajal said that the facilities included watch posts, abandoned homes and ranches, and coca processing laboratories thought to be used by Colombian guerrillas or drug traffickers.
"There are no irregular Colombian groups established in our territory, but we have intelligence on the infiltration of irregular groups across the border with Colombia. For that reason we have made repeated calls on the Colombian authorities to step up military check points in the area" Carvajal explained.
The latest announcement contradicts previous denials by Ecuador of any FARC presence within its borders. Colombia has repeatedly claimed that FARC seek shelter within Ecuador and use the country as a safe haven.