"Boys, we're not in the sixties" Chavez tells Colombia's FARC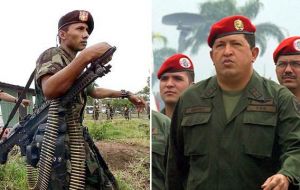 In an attempt to take distance from the Colombian guerrilla following claims of his alleged links with the rebels presented by Bogotá before the Organization of American States, OAS, President Hugo Chavez said that "Colombian armed groups must reconsider their armed strategy".
"There are no conditions for them taking power in a foreseeable future. They have become the main excuse for the (United States) empire to penetrate Colombia and from there practice aggressions against Ecuador, Venezuela and Cuba", said Chavez during a trade unions of the Americans gathering held in Caracas.
But in spite of the latest statement, the Venezuelan president has is the past openly received and praised the Colombian guerrillas, Colombian revolutionary Armed Forces, FARC, as part of negotiations for the release of hostages.
Chavez also regretted the death of the FARC leader Manuel Marulanda Velez ("Tirofijo") of whom there are several statutes in Venezuela and has also requested that FARC be de-listed as a terrorist organization.
The Venezuelan president has also faced serious accusations of granting support, refuge and allegedly supplying arms to the FARC guerrillas, which are now very distant from their Marxist orientation of the sixties and seventies and are wholly involved in the drugs' trade.
"I believe that the Colombian guerrillas should seriously consider what some of us have done. With all respect, the world today is not the same as in the sixties" Chavez was quoted.
Last Thursday Chavez severed relations with Colombia following on Bogotá claims before the OAS that at least 1.500 FARC and ELN (National Liberation Army) guerrillas are in Venezuela distributed in 87 camps.
He also ordered the Army in full alert while Colombia is considering the possibility of taking its claim to international courts. Meantime Unasur leaders have begun a round of phone and personal contacts to try and lower the temperature of the confrontation.
It is estimated that the Venezuelan army has 20.000 men distributed along its border with Colombia.