Record unemployment in Spain reaches 20.09%, highest since 1997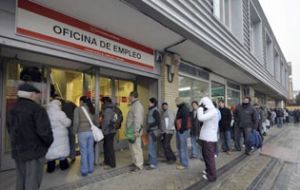 Spain's unemployment rate already the highest in the Euro region rose to the most in more than a decade in the second quarter: 20.09% up from 20.05% in the first quarter, according to the country's National Statistics Institute. This is the highest since 1997.
The country in the first quarter of this year emerged from a two-year recession and the government expects growth accelerated between April and May. However austerity measures aimed at cutting the third-largest deficit in the Euro region may undermine the recovery and the government raised its unemployment forecast in May as a result of the budget cuts.
Spain's budget deficit was 11.2% of GDP last year and the government aims to cut it to 6% next year. As part of that pledge, Prime Minister Jose Luis Rodriguez Zapatero's Socialist government cut public workers' salaries 5% in June and plans to freeze pensions next year, threatening to undermine the recovery.
The government has reduced its growth forecast for next year to 1.3% from 1.8% as a result, and sees an average unemployment rate of 19.4% this year, falling to 16.2% in 2013.
The number of Spanish households with all members out of work was 1.3 million, 190,000 more than a year ago, the report showed, and the unemployment rate among immigrants was 30%.
The doubling of the unemployment rate in two years eroded support for the Socialist government. The opposition Popular Party has opened up an 11.8 percentage point lead over the Socialists, ABC newspaper reported, citing an opinion poll it commissioned.
Rodriguez Zapatero said July 23 that economic growth accelerated in the second quarter from the 0.1% pace of the first three months of the year. He's hoping an overhaul of the banking system will spur the recovery, along with changes to labor legislation.
The new law, approved with new amendments earlier this week in parliament reduces some firing costs and makes it easier for companies and workers to opt out of wage bargaining deals. It also aims to reduce the use of temporary contracts, which account for about a quarter of all jobs, one of the highest rates in Europe.