Georgia to open embassies in Latam looking to attract investment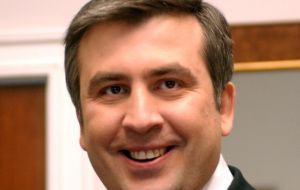 The former Soviet republic of Georgia plans to open embassies in Brazil and Mexico and will send a top delegation to the inauguration of Colombian president Juan Manuel Santos as it seeks to attract more foreign investment and to expand economic and political ties with Latin America, according to the Foreign Ministry.
"Brazil has huge potential" Deputy Foreign Minister Tornike Gordadze said by telephone in the capital Tbilisi. "It's an emerging force, and we need to tap into it to develop our economy, tourism and business as well as politically".
Brazil currently has no investments in Georgia said Giorgi Kalandadze, a spokesman for the Ministry of Economy and Sustainable Development.
Georgian President Mikhail Saakashvili travelled to Costa Rica in May to attend the inauguration of President Laura Chinchilla and meet with officials in a bid to revive foreign investment, which fell 51% in 2009 from a year earlier to 759 million US dollars. Georgia received 75.7 million USD in the first quarter, according to the National Statistics Service.
Saakashvili is scheduled to attend the inauguration of Colombian President-elect Juan Manuel Santos next month, according to the presidential website.
The Foreign Ministry sent a delegation to Ecuador and Bolivia earlier this year in an attempt to prevent the countries from recognizing the independence of Abkhazia and South Ossetia, two breakaway Georgian regions.
Russia first recognized the regions after routing Georgia's army in an August 2008 war over South Ossetia, a move condemned by Washington and many European countries. Three other countries – Nicaragua, Venezuela and the Pacific island nation of Nauru – have followed suit.