Argentina official July inflation, 0.8%; private sector and unions: 1.9%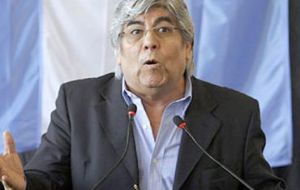 Argentina's annual inflation rate in July rose to the highest level since May 2006, led by higher costs for leisure goods and clothing. Consumer prices increased 11.2% from a year earlier and 0.8% from June the national statistics institute Indec, said.
Private economists and politicians including Vice President Julio Cobos have questioned the government data, saying officials have been underreporting price increases since January 2007, when former President Nestor Kirchner made personnel changes at the National Statistics Institute. The government said the changes were made to improve operations.
"The inflation problem in Argentina is absurd," said Nicolas Salvatore, an economist at Buenos Aires University. "It has an easy solution. We have to tighten the monetary base and slow economic growth to 4%".
Hugo Moyano, teamster union leader and a close ally of the Kirchner couple has in fact ignored official inflation data by demanding annual salary adjustments in the range between 15% and 25%.
Morgan Stanley more than doubled its growth forecast for Argentina, South America's second-biggest economy after Brazil, to 9.7% in 2010 from an earlier estimate of 4.6%. The expansion would be the fastest since 1992.
Money supply last month surpassed the central bank's target as dollar purchases pushed reserves to a record 51 billion. M2 money supply, which includes cash in circulation and deposits in savings and money market accounts, rose 23.8% in July from a year earlier to 217.8 billion pesos (55.4 billion USD), exceeding a target of 214.4 billion pesos, the central bank said last Friday in a monthly report.
Researchers at Buenos Aires University, led by Graciela Bevacqua, who was removed from her post as director of Indec under Kirchner in 2007, reported that consumer prices rose 1.9% in July from June.
Last week, the Senate passed a bill to make Indec, independent from the government. The bill requires that the Senate approves the nomination of the agency's director and would create a bicameral oversight committee. The legislation will next go the lower house for consideration.