It is official: Cristina or Nestor will be running for president in 2011
Monday, August 16th 2010 - 04:52 UTC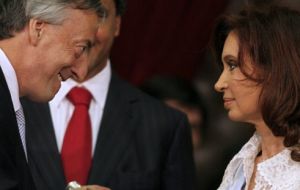 Argentine Cabinet Chief Aníbal Fernández said Sunday that either Néstor Kirchner or Cristina Fernández de Kirchner would be the candidates for the 2011 presidential elections from the ruling party.
"Nestor and Cristina Kirchner have been two very successful presidents and most certainly one of them will be presidential candidate next year", said Anibal Fernandez.
Interviewed by the newspaper El Liberal from Santiago del Estero province, Fernández seemed confident when he said that the next government administration "will likely be ours" and that several current policies will be strengthened and implemented further.
He added that neither Néstor nor Cristina "have accepted the rules of the game for being a good president, of not saying anything and keeping their mouths shut or not changing structures, of covering up problems".
"They are committed to transforming Argentina and this is not liked by sectors and groups that enjoyed certain privileges", added Fernandez.
Following on the strategy of the 2007 presidential election, which finally saw Mrs Kirchner running for the highest office, the cabinet chief said that "our political project is going to present one candidate, could be a man or a woman".
But "you can be sure this project is going to continue if the electorate so believes, and since Argentines do no commit suicide, I have no doubts that is how it will work out", underlined the cabinet chief who added that the opposition which is anticipating an end to the Kirchners in 2011 "will be facing a major surprise, and defeat".