Gigantic (US made) Chilean flag for bicentennial celebrations
Thursday, August 19th 2010 - 11:24 UTC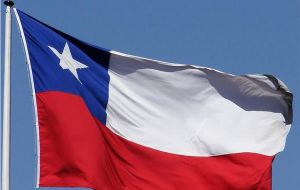 A gigantic Chilean flag, 18 meters wide and 27 meters long, is on its way to Chile from the United States.
The flag was made by North American company Flag & Flagpole Supply and is expected to arrive at the end of August, in time for Chile's bicentennial celebrations.

"It was important for us to have the flag made in the United States because there are few places in the world that work in these proportions and with such highly complex fabrics," said Pauline Kantor, executive secretary of the Bicentennial Commission.
Flag & Flagpole Supply's specialty is large-scale flags. Its customers include the U.S., Jordan, Panama and Brazil.
"Flags with such big dimensions require a very precise technology," said Cristián Undurraga, head architect of the project. "Their fabric is a special nylon, similar to that used to make sails for boats. It's made to resist strong winds that can exert up to one ton of pressure."
The mast is 61 meters long and weighs 50 tons. It will be permanently installed on Santiago's main street Alameda on Sept. 15, and the flag will be hoisted up the pole Sept. 17.
"The idea," Undurraga said, "is for the flag to be a symbol of unity."
By Kara Frantzich – Santiago Times