Argentine to increase budget defence 50%, recovering losses of Falklands war
Wednesday, September 1st 2010 - 06:48 UTC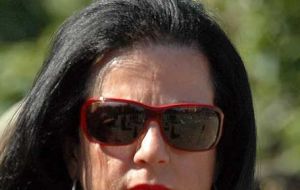 Defence minister Nilda Garré said the Argentine government would increase the defence budget in coming years from 0.9% to 1.5% of GDP to help overcome decades of divestment following the defeat in the (1982) Falklands/Malvinas war.
The extracts of her words are from a conference followed by a period of questions and answers with political science students at the Di Tella University.
Garré said that the contraction of the defence budget can be tracked to the "defeat in the Falklands/Malvinas war, social incompatibility with the military institutions following the war, military dictatorship and the 2001 collapse of the Argentine economy".
The minister said these factors "most probably impeded a quicker recovery" of military spending that will be used in future budgets to improve military hardware, particularly with the development of a defence industry.
"The current 0.5% of GDP, will be sustainedly increased in coming years to reach 1.5% of GDP: in other words a 50% increase to modernize equipment particularly appealing to the development of a national defence industry", pointed out Garré.
The minister also said Argentina will continue to be committed to world peace operations and emphasized the "excellent performance" of Argentine troops in Haiti and Cyprus, where they have been congratulated by United Nations.
Garré anticipated that Argentina is ready to begin applying "nuclear technology" in defence issues since it has rigorously complied with international rules against the proliferation of this kind of energy.
"Foreign Affairs, the Argentine Atomic Energy Commission and regulators have fully agreed to work in the development of nuclear propulsion engines which could be used in vessels or submersibles", indicated Garré.
With this purpose the Atomic Energy commission has created a task force to work with the Ministry of Defence to begin outlining the project.
Regarding regional affairs the Minister of Defence said that Unasur (Union of South American Nations) has managed the creation of "a peace zone" where "substantially stability exists" although admitting "some local conflicts must still be resolved".
More specifically on the South American Defence Council, in the framework of Unasur, "it has been successful in several of these conflicts, actively working in the case of Colombia and Venezuela and the border incursion of Colombian troops into Ecuador".-
Finally she pointed out that Unasur must help in preserving the rich mineral resources of the region.