Mujica rather mistrustful of Uruguay's economic performance: too good to last
Saturday, September 18th 2010 - 03:50 UTC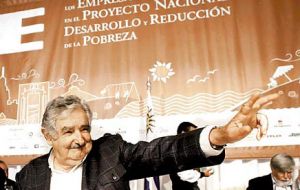 President Jose Mujica said he was not satisfied with growth of the Uruguayan economy but rather 'mistrustful' since "good things are not for ever", nevertheless the country must take full advantage of the situation.
Earlier this week the country's statistics office INE reported that the Uruguayan economy had expanded 9.8% in the first six months of 2010 compared to the same period a year ago.
The Central Bank estimates Uruguay's GDP will advance 6.5% in the twelve months, while the IMF, the UN Regional Economic Office, World Bank and credit rating agencies are more inclined to a 7% forecast.
Mujica went further and said that the performance of the economy was not a merit of the government or its economic team, but rather the whole region is going through a similar situation, "let's hope we can take advantage of it".
The Uruguayan president said that the strong showing of China globally and Brazil regionally are pulling the train, and "we should not be arrogant and believe it was our making, it's the circumstances, we must admit prudence and try and store for not so good times, that will come".
He added that "let's hope this continues" and recalled that he has always stated that South America was the last large farmland reserve of the world, "and that is what is happening, that explains the price of land, the price of commodities".
So, "let's act with intelligence and hopefully, take advantage of the situation"
Brazil, Uruguay's main trading partner, is rapidly becoming a world economic power "and we should stick next to them" added Mujica.
In related news US investment bank JP Morgan informed its clients that the Uruguayan economy growth forecast for 2010 was increased to 7.5% from 6.5% based on the excellent performance of the first half, 9.6%.
"Strong growth and an improvement in the fiscal situation will continue to strengthen the Uruguayan case moving closer to obtaining the investment degree, in a not distant future", said Franco Uccelli in the JP Morgan report.
Uruguay currently stands two steps below investment grade for Fitch, Standard & Poor's, DBRS and R&I. Moody's is also in the process of reviewing upwards Uruguay's debt rating position.