Mrs. Kirchner scheduled to address UN assembly Friday
Monday, September 20th 2010 - 23:33 UTC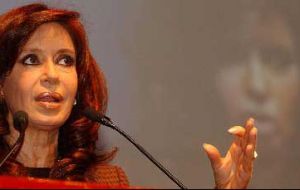 Argentine President Cristina Fernández de Kirchner is expected in New York Wednesday to meet an intensive agenda that includes addressing the UN General Assembly next Friday when a strong call for Falklands/Malvinas negotiations is expected.
However the main event according to Mrs. Kirchner's diplomacy will be the meeting where Argentina will be formally chosen to lead Group of 77, which gathers all developing countries within the international body.
Foreign Minister Héctor Timerman announced that Argentina will chair as of January 2011, for the first time, "the largest forum for the coordination of developing countries within the UN".
Considered by the Argentine President as "a great honour for our country," and defined by Timerman as "the greatest foreign policy achievement of the current year", the Argentine leadership in the "G-77 + China group" -as it is commonly called - will be formalized September 28 during a vote that will count with Mrs. Kirchner's presence.
On arriving Wednesday accompanied by former president and UNASUR Secretary General, Nestor Kirchner and the rest of the official delegation Mrs. Kirchner will immediately begin diplomatic activities by attending to a scheduled lunch with UN Secretary General Ban Ki-moon.
The Argentine president is also scheduled to meet corporation leaders in New York and address several business meetings.
Minister Timerman is already in New York begun his diplomatic agenda by participating in a special meeting that dealt with the reconstruction of Haiti, alongside ten representatives from other countries determined to help the nation after the earthquake.
The Foreign Ministry said that the IHRC Haiti reconstruction meeting was held to discuss aid measures, among other things, and had the presence of US Secretary of State Hillary Clinton, Haiti's Premiere Minister Jean-Max Bellerive, and Bill Clinton, ex US president, among others.
During the meeting, the upcoming Haiti elections were also discussed along with the progress of the reconstruction process as a whole. Timerman said that there is a "firm Argentine commitment to Haiti," adding that Argentina wants to see the nation develop on its own, according to its own national priorities.
He also mentioned the need for an adequate coordination strategy from the part of the United Nations. Finally, the financial assistance received by Haiti from UNASUR (Union of South American Nations) was mentioned.