Spain presents draconian budget with unemployment remaining above 19%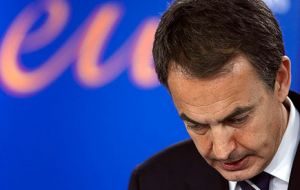 Spain presented a tough 2011 budget, deepening an austerity drive and taxing the rich more heavily as it seeks to boost confidence in a fragile economy ahead of a general strike.
Many of the measures confirmed cuts announced as part of a stringent austerity plan squeezed through parliament in May, but markets welcomed Spain's commitment to the program and the spread of Spanish bonds against safer German bunds tightened.
"Simply confirming what was in the pipeline was probably enough," said Gilles Moec, economist at Deutsche Bank. "Market sentiment has changed quite a lot — people see the difference between Spain and some of the other peripheral euro zone economies".
Others said the growth projections underpinning the government's fiscal ambitions looked optimistic.
Spain aims to slash its deficit while still rekindling economic growth and tackling the Euro zone's highest unemployment rate. Concerns about burgeoning debt in economies on the periphery of the euro zone like Greece, Spain and Portugal have weighed on the euro currency.
Last week Spain's minority government secured the backing for the budget of the Basque National Party (PNV) in return for some concessions over autonomy. That removed a huge political hurdle for Prime Minister Jose Luis Rodriguez Zapatero, who could have faced a call for early elections if support for the budget which must be passed by year-end was not achieved.
The premium demanded to hold 10-year Spanish bonds over German bunds hit its highest since mid-July just before the announcement, but dropped around 11 basis points to 182 bps after the budget was unveiled — far narrower than equivalent spreads on Greek, Portuguese and Irish debt.
The Socialist government said it would hike income tax by 1 percentage point for those earning more than 120,000 euros a year, and 2 percentage points on salaries over 175,000 euros, a measure that will earn the government just 170 million to 200 million euros ($267 million).
The move looks aimed at placating the Socialists' core voter base ahead of a general strike due to take place Wednesday in protest at social spending cuts and a controversial labour reform that reduces generous severance payments.
"It's a purely political gesture, probably needed to get the budget voted through parliament, but I don't think it is material," said Deutsche's Moec.
The government said it still expects the public deficit to fall to 3% of GDP by 2013 from 9.3% of GDP in 2010, reiterating targets from May. The economy is meanwhile expected to accelerate to grow at 2.7% by 2013 after shrinking 0.3% in 2010, with the budget revising up forecasts for both exports and private consumption.
Spain said spending cuts would be steeper than originally planned, with central government outlays dropping some 10 billion Euros, or 7.9%, compared with a previous target of 7.7%.
Debt issuance plans for 2011 are expected to be outlined on Sept. 30 before parliament.
The government revised its 2011 unemployment projection up to 19.3% from 18.9%. In the second quarter it stood at over 20%.