Unasur chairman Kirchner condemns FARC and its 'pre-Cold War' attitude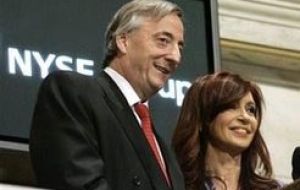 UNASUR (Union of South American nations) Secretary General Nestor Kirchner currently in New York with the Argentine delegation for the United Nations General Assembly, said that the Colombian guerrilla FARC "are so back in time, that they are even far behind the Cold War"
"The attitude of FARC (Armed Revolutionary Forces of Colombia) does not contribute to democracy, on the contrary", said the former Argentine president on Monday at the New School college of New York where he gave a conference on Unasur, challenges and recent events in the region.
Nestor Kirchner revealed he has strong discrepancies with the FARC guerrilla movement and was particularly critical of their terror methods and kidnapping.
However he expressed his full solidarity with Colombian Senator Piedad Cordoba who has been barred from holding public office for 18 years by the country's inspector general for having ties to FARC.
Colombia's Inspector General's Office considers it proven that Senator Cordoba "promoted and collaborated with" the guerrilla group, considered a terrorist organization by Colombia, United States and the European Union among others.
"Nobody can seriously link" Senator Cordoba with FARC, said Kirchner adding that her actions have been "excellent" and it is time "to contribute to peace and end with confrontation in Colombia".
During the conference, attended mostly by students, Kirchner underlined the "good relation" with Colombian president Juan Manuel Santos insisting that "we must help that country (Colombia)".
Kirchner, a close friend and ally of Venezuela's Hugo Chavez, had strained relations with Santos predecessor, Alvaro Uribe, who in eight years managed to turn the tide against the FARC guerrilla that in 2002 had control of 25% of Colombian territory.
The Argentine president highlighted the importance of UNASUR as a key piece for regional conflict solving (such as the Colombia/Venezuela clashes) as well as placing strong emphasis on the aid the group of nations has been sending to countries such as Haiti.
The former president also held a meeting with United States Democrat Representative Eliot Engel, who is currently in charge of the US relations with Latin America.