South American soy producers ally "to avoid buyers' manipulation"
Saturday, October 23rd 2010 - 03:21 UTC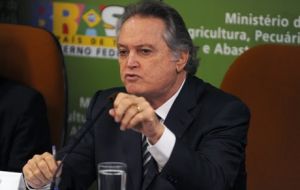 Argentina and Brazil are negotiating an alliance with other South American producers of grains and oilseeds to deal jointly with buyers in Asia and elsewhere, according to Brazilian Agriculture Minister Wagner Rossi.
Rossi met his Argentine counterpart Julian Dominguez and ministers from Chile, Paraguay and Uruguay in Santiago. Brazil is seeking to draw up "consistent" policies with its neighbors, Rossi said in an interview in Santiago.
A deal between Argentina, Brazil and Paraguay would combine about half of the world's soybean production, according to U.S. Department of Agriculture data. Argentina and Brazil are also among the world's top three corn exporters, according to the USDA. China is the world's largest soybean importer.
"We can start a new future where we can be associates," Rossi said. "That way we will not be manipulated by buyers."
Soybeans have surged 21% over the past year on increased import demand from China, reaching the highest price since June 2009. Corn is trading at 41% over the past year.
Brazil wouldn't seek to raise food prices or "manipulate markets" through the alliance, Rossi said. Brazil is also the top producer of coffee and sugar and the second-largest producer of soybeans behind the U.S.
"If we join forces we will become the world's most important" regional producer of grains, Dominguez said in an interview today in Santiago. "It's about unifying our supply platform."
China halted Argentine soybean-oil imports in April because of trade disputes ranging from textiles to kitchen products. China restarted cooking oil imports from Argentina earlier this month, three executives familiar with the deals said on Oct. 15.
Brazil has also fought trade disputes with China through the World Trade Organization during the past decade as the Asian nation banned shipments because of contamination of seeds. China is also the world's largest consumer of industrial metals, pork and cotton and the second-biggest user of corn and sugar.
China's soybean imports for the year from Oct. 1 may rise to 54 million tons, from about 50 million tons in 2009-2010, the China National Grain & Oils Information Center said in an e- mailed report this week. That compares with the 55 million tons projected by the U.S. Department of Agriculture.