China opens beef market to Argentina; farmers warn lack of sufficient cattle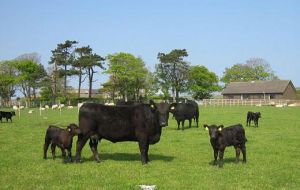 China will open its market to Argentine beef consolidating the end of a conflict that started earlier this year when Beijing decided to suspend "on sanitary reasons" the import of soy-oil from Argentina, a ban that was only lifted last month.
"The government has just finished a round of talks and negotiations with Chinese officials in order to open the market to Argentine beef" announced Friday Foreign Affairs minister Hector Timerman in his Twitter, adding that the "(Argentine) export model is steaming full ahead".
Argentina's International Trade Secretary Luis Maria Kreckler had anticipated on Thursday that the government of Cristina Fernandez was involved in trade negotiations with Beijing "with the purpose of opening the Chinese market to beef, barley and dairy produce" among other products.
An official release said that negotiations also included other traditional Argentine exports such as apples, pears and wines in the framework of the trade agreement signed last July when President Cristina Fernandez made an official state visit to China.
However praise came with complaints.
"For Argentina the opening of the Chinese market is most significant, the problem is we don't have what to export. In the last few years government policies have seen the national herd loose 12 million head of cattle", said Javier Jayo from Argentina's Rural Confederations.
But Jayo also admitted that conditions are changing and there has been "an evolution" in government policies which means that the doubling of the price of beef in the domestic market in the last two years "generates the conditions to start rebuilding the national rodeo, for which we will have to wait two to three years".
Argentina currently has less than 50 million head of meat cattle and since the government policy privileges the domestic market, exports in 2008 reached 1.5 billion US dollars which is well below the country's potential.
Besides the advance of soy fields with high yields have taken over 12/14 million hectares of prime pasture land. Argentina's farmland is estimated in 180 million hectares.
Argentina in the last two years has been relegated to position eight among beef exporting countries, behind Uruguay with only 12 million head of cattle.
Brazil has become the world's second beef producer behind the United States, but first exporter with 25% of world beef traded.
Argentina also lost to Uruguay its world's first position as per capita beef consumer having dropped from 68.7 kilos in 2008 to 56.5 kilos last year, according to official FAO statistics.
The significance of the Chinese market is given by FAO numbers: the annual per capita consumption of meat has risen from 13.7 kilos (mostly pork and chicken) thirty years ago, to 59.5 kilos in 2009.
Last month it was announced that China had resumed soy-oil purchases from Argentina (an operation of at least 200.000 tons) following several months of ban, allegedly for "sanitary" reasons.
Beijing's decision at the time was also seen as a reaction to tariffs imposed by Argentina on certain Chinese consumer goods which the government of Cristina Fernandez considered were flooding the domestic market.
The Chinese soy oil market represents two billion US dollars a year for Argentina which is the world's leading exporter. In 2009 according to Argentine sources China imported 4.6 million tons of soy oil which, equivalent to 70% of its demand.
China/Argentine trade has soared from 4 billion USD to 14 billion in 2008, making China Argentina's second partner behind Brazil and ahead of the European Union.