Falklands government "satisfied and grateful" for UK level of defence
Wednesday, November 10th 2010 - 14:16 UTC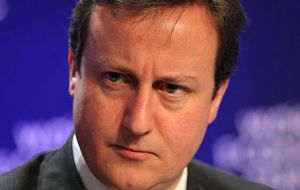 The Falkland Islands government said Wednesday in an official statement that it is "satisfied and grateful for the levels of defence on the Islands".
The statement follows claims to the contrary from retired Royal Navy chiefs who argue the latest defence cuts make the Falkland Islands vulnerable to attack from Argentina.

In a letter to The Times, the commanders condemned the decision to scrap the aircraft carrier Ark Royal and the fleet of Harrier jets, calling it "perverse". The signatories, who include former Navy boss Lord West, said PM David Cameron was badly advised before agreeing to the measures.

"In respect of the valuable Falklands and their oilfields, because of these and other cuts, for the next 10 years, Argentina is practically invited to attempt to inflict on us a national humiliation on the scale of the loss of Singapore" wrote the RN former chiefs.

"One from which British prestige, let alone the administration in power at the time, might never recover".

However the Falklands government said it was satisfied and grateful for the level of defence of the Islands, "which Her Majesty's Government has assured us are adequate to maintain an effective deterrent".

Furthermore "there are no direct defense cuts relating to the Falkland Islands" and "Members of the Legislative Assembly are content with the reassurances that they have been given by Her Majesty's Government that the Strategic Defense Spending Review does not in any way change the UK's ability to maintain the deterrent in the Islands."

Besides scrapping HMS Ark Royal and the versatile Harriers, the Strategic Defence Spending includes cutting the number of British Army troops by around 7,000, taking it to 95,000 by 2015, and scrapping the planned Nimrod MRA4 maritime reconnaissance aircraft, despite spending £3bn on its development.

They said the Harrier decision was "strategically and financially perverse", claiming that keeping Tornado jets would cost seven times as much in maintenance during the next decade.

They conclude: "We believe that these decisions should be rescinded in the overriding national interest, before it is too late".