"Newly valuable" Falklands open to attack by axing Ark Royal and the Harriers
Wednesday, November 10th 2010 - 04:47 UTC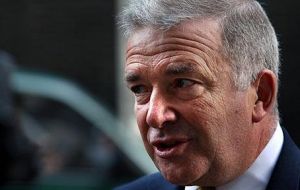 A group of former Royal Navy admirals have called for the decision to scrap the aircraft carrier Ark Royal and the fleet of Harrier jets to be reversed. The cuts were announced as part of the government's Strategic Defence Review.
In a letter to The Times the group says defence cuts will leave the "newly valuable" Falkland Islands open to attack and call the plan to axe the Harrier fleet "financially perverse".
But ministers insist the UK will still be able to defend the Falklands.
Defence Secretary Liam Fox told The Times: "It is simply not the case that decommissioning the Harrier would impact upon our ability to defend territories in the South Atlantic.
"We maintain a wide range of assets, not least a well-defended airfield to ensure the defence of the Falkland Islands.
"The Harrier force has made an impressive contribution to our nation's security over the decades but difficult decisions had to be made... and I'm clear that rationalising our fast jet fleet makes both operational and economic common sense."
BBC defence correspondent Jonathan Beale said the strongly-worded letter from a group which includes two former heads of the Royal Navy - Lord West and Sir Julian Oswald - confirmed the deep anger felt in the Royal Navy over the cuts.
The letter is also signed by Vice-Admiral Sir Jeremy Blackham, Vice-Admiral John Mcanally and Major-General Julian Thompson.
They say the prime minister was badly advised over the decision to scrap the Harrier force and HMS Ark Royal and to rely entirely upon Tornados. They say the Harrier is more versatile and will be cheaper to maintain.
The letter says: "The existing Tornado force will cost, over 10 years, seven times as much to keep in service as Harrier. Was the recent exercise not supposed to save money?"
The admirals also warn the decision will leave the Falklands open to attack.
They write: "In respect of the newly valuable Falklands and their oilfields, because of these and other cuts, for the next 10 years at least, Argentina is practically invited to attempt to inflict on us a national humiliation on the scale of the loss of Singapore.
"One from which British prestige, let alone the administration in power at the time, might never recover".
The decision means no planes will be able to fly from British aircraft carriers until 2019.
"The decision to axe the entire Harrier force is strategically and financially perverse," the admirals continue.
"The government has, in effect, declared a new '10-year rule' that assumes Britain will have warning time to rebuild to face a threat.
"The last Treasury-driven '10-year rule' in the 1930s nearly cost us our freedom faced with Hitler" argue the admirals. (BBC).-